Neil Young & Crazy Horse Rust Never Sleeps LP Vinyl Official Release Series Bernie Grundman 2017 EU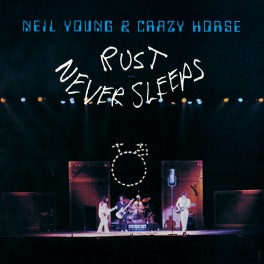 Maximize
The majority of Rust Never Sleeps was recorded live in 1978 at The Boarding House club in San Francisco, then overdubbed in the studio. Considered one of Neil Young's best albums, the LP is a mix of acoustic and electric compositions, bookended by different versions of 'Hey Hey, My My'.
Pressed on High Quality Vinyl
Cut from the Original Analog Master Tapes
Remastered under the direct supervision of Neil Young
Cut by Chris Bellman at Bernie Grundman Mastering Studios
Exact Reproduction of the original cover design and texture
Originally issued in 1979, the quintessential Rust Never Sleeps features new songs recorded largely live during Neil Young's 1978 tour with the mighty Crazy Horse. Covering both sides of the mercurial singer/songwriter's prolific personalities, it's split between compelling acoustic material and powerful electric numbers. The set kicks things off with an acoustic version of the state of rock 'n' roll anthem "My My, Hey Hey (Out of the Blue)," before offering up a lovely "Pocahontas," scathing "Powderfinger" and closing with a rowdy electric reprise of "Hey Hey, My My (Into the Black)." The New York Times described Rust Never Sleeps as offering "some of [Young's] strongest songs..the intensity of the singing and playing of Crazy Horse, Mr. Young's longtime partners for electric-rock projects, is as moving as rock can offer."
The phrase, Rust Never Sleeps, was used by Young to instill a more progressive approach to his live performance during his tour with the group Crazy Horse.
Track Listing:

Side A
1. My My, Hey Hey (Out Of The Blue)
2. Thrasher
3. Ride My Llama
4. Pocahontas
5. Sail Away

Side B
1. Powderfinger
2. Welfare Mothers
3. Sedan Delivery
4. Hey Hey, My My (Into The Black)
Click here to listen to samples on YouTube.com ♫