John McLaughlin Al Di Meola Paco De Lucia Passion Grace & Fire LP 180g Vinyl Audio Fidelity 2017 USA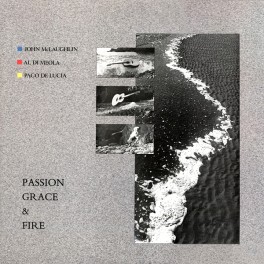 Maximize
Artist:
John McLaughlin, Al Di Meola, Paco de Lucia
Title:
Passion Grace & Fire
Catalog Number:
AFZLP 261
Label:
Columbia
Reissued by:
Audio Fidelity
Barcode:
780014226114
Original release year:
1983
Reissue year:
2017
Number of discs:
1
Revolutions per minute:
33⅓ rpm
Disc size:
12"
Vinyl Weight Grade:
180gr
Limited Edition:
Yes
Numbered Edition:
Yes
Total Item Weight:
358gr
Pressing country:
USA
For Market Release in:
USA
Added to catalog on:
September 1, 2017
Vinyl Gourmet Audiophile TOP 100:
Yes
Note:
Never eligible for any further discounts
Vinyl Gourmet Club:
Yes
In 1983 the guitar super trio of John McLaughlin, Al Di Meola and Paco de Lucía reunited for another set of acoustic guitar trios. Unlike their first album, the phenomenal live acoustic performance Friday Night in San Francisco, this masterpiece consists entirely of studio sessions. Some of the most perfectly beautiful and emotionally intense music ever recorded, with amazing sound quality!
Featured in Vinyl Gourmet Audiophile TOP 100


Limited Edition
Numbered Edition
180 Gram Audiophile Vinyl
Quality Record Pressings QRP, USA
Cut by Kevin Gray at Cohearent Audio
Gatefold Cover
Passion, Grace & Fire is a mix of flamenco, fusion, jazz, latin and classical music, bathed with beauty and compassion. It is simply three mindblowing musicians that united to produce the last word in acoustic guitar music and an unbelievable chapter in the history of music. But this album is not only incredible for guitarists, it is fantastic for everyone because the songwriting is amazing. Each guitarist contributed two compositions, and all pieces feature the trio playing written out parts and improvising over a theme. Every tune is the perfect sequel to the one that preceed it. It seems as it has been written by one single pen. No player dominates, as the format does not provide for contests or duels.

This guitar summit lives up to its title. The playing is ferocious and these speed demons do not let up. The performances are almost unbelievable and yet they portrays such color, nuance and emotion. Best of all, this album is a fantastic audio experience - the acoustic guitars are recorded flawlessly.

The prevailing opinion at the time was that the raw excitement of the original live recording could never be matched in the recording studio. Delightfully, the trio answered all those who had questioned its potential with Passion Grace & Fire.
Musicians:

John McLaughlin, Yamaha classical flamenco-type guitar - gut strung (on stage center)
Al Di Meola, Ovation 6-string acoustic guitar - steel strung (on stage left)
Paco De Lucia, Spanish flamenco guitar, built in Spain - gut strung (on stage right)
Track Listing:

Side A
1. Aspan (Composer: John McLaughlin)
2. Orient Blue Suite (Composer: Al Di Meola)
3. Chiquito (Composer: Paco De Lucia)

Side B
1. Sichia (Composer: Paco De Lucia)
2. David (Composer: John McLaughlin)
3. Passion, Grace & Fire (Composer: Al Di Meola)