Emerson, Lake & Palmer Pictures At An Exhibition Vinyl LP Remaster Gatefold BMG 2016 EU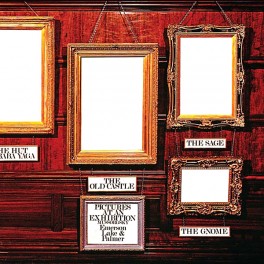 Maximize

Display all pictures
Artist:
Emerson, Lake & Palmer
Title:
Pictures At An Exhibition
Catalog Number:
BMGCATLP3
Label:
Island Records
Reissued by:
BMG
Barcode:
4050538180152
Original release year:
1971
Reissue year:
2016
Number of discs:
1
Revolutions per minute:
33⅓ rpm
Disc size:
12"
Total Item Weight:
303gr
Pressing country:
EU
For Market Release in:
EU
Added to catalog on:
August 13, 2017
Note:
Not eligible for any further discounts
Vinyl Gourmet Club:
No
Emerson, Lake & Palmer's legendary rock version of Mussorgsky's piano cycle, which was set down for posterity during a live concert in Newcastle's City Hall, towers above all other recordings of the kind. The trio steered away from the temptation of creating electronic, grandiose sound effects producing a highly original and contemporary yet soulful rendering.
24 Bit/96khz 2016 remaster of the original 1971 LP
Remastered from the Original Master Tapes
Remastered by Andy Pearce at Masterpiece Mastering
Vinyl Cut at Finyl Tweek, London
Original gatefold sleeve & artwork reproduction
Foreword on the LP audio by Greg Lake
Emerson, Lake & Palmer were one of the most successful, innovative and ground breaking British groups of the golden age of progressive rock. As well as creating spectacular 'live' shows that incorporated advanced technology and showmanship, they also recorded a cascade of powerful albums that sold in millions around the world. During 2016 and 2017 the band's musical legacy will be celebrated by BMG with an important and comprehensive re-issue program that will put the spotlight on ELP's nine studio albums as well as their 'live' recordings and compilations.

ELP were formed in 1970 by flamboyant keyboard player Keith Emerson (formerly of The Nice), singer and guitarist Greg Lake (formerly of King Crimson) and drummer/percussionist Carl Palmer (formerly of Atomic Rooster). Blending jazz and classical music with a wide-screen hard-rock style, ELP were one of the torchbearers of the progressive rock sound and were one of the most commercially successful bands of the 1970s. By 1974 they were as big as Led Zeppelin as a live draw.
LP'S third album Pictures At An Exhibition (1971) has been credited with inspiring many young musicians to embrace and study classical music. Based on the group's enthusiastic interpretation of the famous work by Russian composer Modest Mussorgsky, it was a major hit and reached Number 3 in the U.K. and Number 10 in the U.S. album charts. Pictures was recorded on March 21st, 1971 at Newcastle City Hall, where Emerson made use of the hall's thunderous pipe organ. The LP reissue comprises an excellent new remaster cut from the original master tapes.
Musicians:

Keith Emerson (organ, piano, moog, synths)
Greg Lake (acoustic & electric guitar, bass, vocals)
Carl Palmer (drums, percussion)
Track Listing:
Side A
1. Promenade (Part 1)
2. The Gnome
3. Promenade (Part 2)
4. The Sage
5. The Old Castle
6. Blues Variation

Side B
7. Promenade (Part 3)
8. The Hut of Baba Yaga (Part 1)
9. The Curse of Baba Yaga
10. The Hut of Baba Yaga (Part 2)
11. The Great Gates of Kiev
13. Nutrocker