Jethro Tull Songs From the Wood LP 180 Gram Vinyl 40th Anniversary Edition Steven Wilson Remix 2017 EU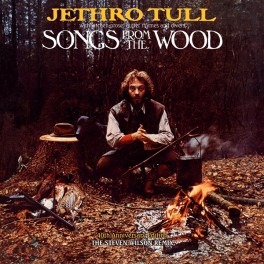 Maximize

Display all pictures
Songs From The Wood is often referred to as one of the most commercially appealing Jethro Tull albums, containing elements of rock, prog and folk-rock, becoming one of the band's most popular albums. Now for the 40th Anniversary this classic album is given the Steven Wilson Remix treatment, offering the fans an improved audio experience of this timeless music.
40th Anniversary Edition
Steven Wilson 2017 Stereo Remix
180 Gram Vinyl LP
Pressed at Optimal in Germany
24 Page Booklet
Over the course of their career, Jethro Tull's music has been variously described as rock, prog, and folk, but nowhere did the full trifecta come into play more wonderfully than on the band's tenth album, 1977's Songs From The Wood. It was inspired by Ian Anderson's departure to a more rural environment in a transition which bore clear influence on the writing and recording process, with the band notably doffing a cap to British folklore and countryside. Although media reaction at the time divided opinion, the album has certainly developed a nostalgic rapport with fans throughout the years and it is perceived today as one of the band's most popular.

Drummer Barrie Barlow comments that it still sounds, "Fresh, unique, great textures, interesting and dynamic!," while guitarist Martin Barre remembers that, "It was a very tight band, one of the strongest line-ups Tull ever had...I think that Songs From The Wood and Heavy Horses [the follow up album] as a pair of albums are near the top of the tree." To commemorate the 40th Anniversary of Songs From The Wood, one of Jethro Tull's finest and most accessible albums and the first in the band's acclaimed late 1970s 'Folk Rock Trilogy', the new 2017 Steven Wilson stereo mix of the album is being issued on 180g vinyl with wide-spined sleeve and a 24 page stapled booklet (on 170gsm matt art paper).

"Far and away the prettiest record Jethro Tull released at least since Thick as a Brick and a special treat for anyone with a fondness for the group's more folk-oriented material. Ian Anderson had moved to the countryside sometime earlier, and it showed in his choice of source material. The band's aggressive rock interplay and Anderson's fascination with early British folk melodies produce a particularly appealing collection of songs -- the seriousness with which the group took this effort can be discerned by the album's unofficial "full" title on the original LP: "Jethro Tull With Kitchen Prose, Gutter Rhymes, and Divers Songs from the Wood." The group's sound was never more carefully balanced between acoustic folk and hard rock -- the result is an album that sounds a great deal like the work of Tull's Chrysalis Records labelmates Steeleye Span (though Nigel Pegrum never attacked his cymbals -- or his entire drum kit -- with Barriemore Barlow's ferocity).
The harmonizing on "Songs From the Wood" fulfills the promise shown in some of the singing on Thick as a Brick, and the delicacy of much of the rest, including "Ring Out, Solstice Bells" (where the group plays full out, but with wonderful elegance), "Hunting Girl," and "Velvet Green," set a new standard for the group's sound. "Pibroch (Cap in Hand)," which is dominated by Martin Barre's electric guitar -- in a stunning array of overlapping flourishes at full volume -- is the only concession to the group's usual hard rock rave-ups, and even it has some lovely singing to counterbalance the bulk of the song." - Bruce Eder, All Music
Musicians:

Ian Anderson, vocals, flute, acoustic guitar, mandolin, whistles
Martin Barre, electric guitar, lute
John Evans, piano, organ, synthesisers,
Barriemore Barlow, drums, marimba, glockenspiel, bells, nakers, tabor
John Glascock, bass guitar, vocals
David Palmer, piano, synthesisers, portative organ
Track Listing - Steven Wilson Stereo Remix:

Side A
1. Songs From The Wood
2. Jack-In-The-Green*
3. Cup Of Wonder
4. Hunting Girl
5. Ring Out, Solstice Bells

Side B
1. Velvet Green
2. The Whistler
3. Pibroch (Cap In Hand)
4. Fire At Midnight

*Jack-In-The-Green all instruments played by Ian Anderson
Click here to listen to samples on YouTube.com ♫