Marillion Misplaced Childhood 4LP 180 Gram Vinyl Limited Edition Deluxe Box Set Parlophone 2017 EU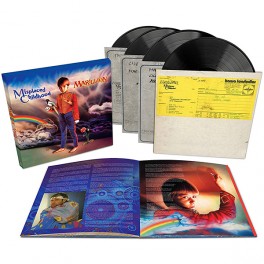 Maximize

Display all pictures
Artist:
Marillion
Title:
Misplaced Childhood
Catalog Number:
190295865511
Label:
EMI
Reissued by:
Parlophone
Barcode:
0190295865511
Edition:
Deluxe Edition
Original release year:
1985
Reissue year:
2017
Number of discs:
4
Revolutions per minute:
33⅓ rpm
Disc size:
12"
Vinyl Weight Grade:
180gr
Extras:
24 Page Booklet
Limited Edition:
Yes
Total Item Weight:
1471gr
Pressing country:
EU
For Market Release in:
EU
Added to catalog on:
August 1, 2017
Note:
Not eligible for any further discounts
Vinyl Gourmet Club:
No
Marillion helped revitalize progressive rock in 1985 when the band released its third studio album, Misplaced Childhood. This concept album became the British quintet's most commercially successful album, scoring Top Five hit singles with 'Kayleigh' and 'Lavender'. Remastered on 4LP with an additional live concert from the time, this deluxe box set is not to be missed!
Limited Edition
4LP Deluxe Box Set
180 Gram Audiophile Vinyl
Original album newly remastered
An entire 1985 concert from Holland
24 Page Booklet with extensive notes and photos
Tour program replica
The vinyl version of MISPLACED CHILDHOOD (DELUXE EDITION) features the newly remastered version of the original album and the entire concert from Holland. Pressed on 180-gram vinyl, the four LPs are presented in a 12" x 12" lift-top box with a beautiful 24-page booklet containing replica tour program and extensive writing on the history of the album and how it came to be.

Singer Derek Dick (aka Fish), guitarist Steve Rothery, keyboardist Mark Kelly, bassist Pete Trewavas and percussionist Ian Mosley recorded Misplaced Childhood at Hansa Tonstudio in Berlin, Germany during the spring of 1985. A concept record with two continuous pieces of music, the song cycle explored themes of lost love, lost childhood, and more. Released in June 1985, it was an immediate success, topping the U.K. album chart and earning platinum status. The album included three big hits: "Kayleigh" (#2), "Lavender" (#5), and "Heart Of Lothian" (#29.)

Discs 2 - 4 contain an October 1985 concert recorded live at the Muziekcentrum Vredenburg in the city of Utrecht. The performance includes the entire Misplaced Childhood album along with several songs from the band's earlier albums, like "Script For A Jester's Tear" and "Fugazi." All of the live recordings are previously unreleased except for "Chelsea Monday," which was the B-side to "Heart Of Lothian."
"After the album-tour-album cycle of Script for a Jester's Tear, Fugazi, and the subsequent Euro-only release of Real to Reel, Marillion retreated to Berlin's Hansa Ton Studios with Rolling Stones producer Chris Kimsey to work on their next opus. Armed with a handful of lyrics born out of a self-confessed acid trip, Fish came up with the elaborate concept for 1985's Misplaced Childhood. Touching upon his early childhood experiences and his inability to deal with a slew of bad breakups exacerbated by a never-ending series of rock star-type "indulgences," Misplaced Childhood would prove to be not only the band's most accomplished release to date, but also its most streamlined.
Initial record company skepticism over the band's decision to forge ahead with a '70s-style prog rock opus split into two halves (sides one and two) quickly evaporated as Marillion delivered its two most commercial singles ever: "Kayleigh" and "Lavender." With its lush production and punchy mix, the album went on to become the band's greatest commercial triumph, especially in Europe where they would rise from theater attraction to bona fide stadium royalty. The subsequent U.S. success of "Kayleigh" would also see Marillion returning to the States for a difficult tour as Rush's support act." - John Franck, All Music
Track Listing:


LP 1 - Misplaced Childhood (2017 Remaster)
A-1 Pseudo Silk Kimono
A-2 Kayleigh
A-3 Lavender
A-4 Bitter Suite
A-5 Heart Of Lothian
B-1 Waterhole (Expresso Bongo)
B-2 Lords Of The Backstage
B-3 Blind Curve
B-4 Childhoods End?
B-5 White Feather

LP 2 - Live In Utrecht 1985 (Part1)
C-1 Emerald Lies (Intro)
C-2 Script For A Jester's Tear
C-3 Incubus
D-1 Chelsea Monday
D-2 The Web

LP 3 - Live In Utrecht 1985 (Part2)
E-1 Pseudo Silk Kimono
E-2 Kayleigh
E-3 Lavender
E-4 Bitter Suite
E-5 Heart Of Lothian

F-1 Waterhole (Expresso Bongo)
F-2 Lords Of The Backstage
F-3 Blind Curve
F-4 Childhoods End?
F-5 White Feather

LP 4 - Live In Utrecht 1985 (Part3)
G-1 Fugazi

H-1 Garden Party
H-2 Market Square Heroes
Click here to listen to samples on YouTube.com ♫