Gentle Giant Octopus LP 180 Gram Vinyl Limited Edition Original Mix Optimal 2015 EU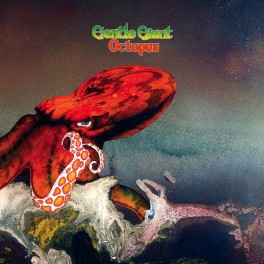 Maximize
Artist:
Gentle Giant
Title:
Octopus
Catalog Number:
ALUGGV054
Label:
Vertigo
Reissued by:
Alucard
Barcode:
804471000497
Original release year:
1972
Reissue year:
2015
Number of discs:
1
Revolutions per minute:
33⅓ rpm
Disc size:
12"
Vinyl Weight Grade:
180gr
Limited Edition:
Yes
Total Item Weight:
331gr
Pressing country:
Germany
For Market Release in:
EU
Added to catalog on:
July 30, 2017
Note:
Never eligible for any further discounts
Vinyl Gourmet Club:
No
Progressive rockers Gentle Giant released Octopus, their fourth album, in December 1972. Octopus is among their best work and is now reissued o the band's own Alucard label.
Limited Edition
180 Gram Audiophile Vinyl
Pressed at Optimal in Germany
Gatefold Cover
"Returning to Gentle Giant's fourth album after any kind of lengthy absence, it's astonishing just how little Octopus has dated. Often written off at the time as a pale reflection of the truly gargantuan steps being taken by the likes of Jethro Tull and Barclay James Harvest, the band's closest relatives in the tangled skein of period prog, Gentle Giant often seemed more notable for its album art than its music. Octopus, however, marries the two seamlessly, with the cover speaking for itself, of course. And the mood continues within, the deliciously convoluted opening "The Advent of Panurge" itself riding waves of sonic tentacles as Gary Green's guitar shrieks short but so effective bursts around the thundering bass and, occasionally, churchy organ. Against the pulsating volume of the album's heavier tracks -- "Panurge" is joined by "A Cry for Everyone" -- the band's excursions into less excitable territory are never less than captivating.
Twiddly though they are, the sometimes a cappella "Knots," the lilting "Dog's Life," and the Yes-with-fiddles-ish "Raconteur Troubadour" all have moments of sublime sweetness, while the instrumental "The Boys in the Band" is a succession of quirky showcases for, indeed, all the boys. Occasionally arrangements do get overly cluttered -- with each of the six bandmembers doubling up on at least three different instruments, there's a distinct sense of overdubs for overdubbing's sake. Follow the key instruments alone, however, and the soundscapes not only make perfect sense, but so do the flourishes and intrusions that rattle around. And the end result is an album that has withstood the test of time a lot better than anyone might have expected." - Dave Thompson, All Music
Musicians:

Derek Shulman, lead vocals (1-4,8), alto saxophone
Phil Shulman, saxophones, trumpet, mellophone, lead vocals (1,4,6,8), backing vocals
Ray Shulman, bass, violin, guitar, percussion, backing vocals
Kerry Minnear, keyboards, vibraphone, percussion, cello, Moog, lead vocals (1,4,7), backing vocals
Gary Green, guitars, percussion
John Weathers, drums, percussion, xylophone
Track Listing:

1. The Advent of Panurge
2. Raconteur Troubadour
3. A Cry For Everyone
4. Knots
5. The Boys In the Band
6. Dog's Life
7. Think Of Me With Kindness
8. River