John Lee Hooker It Serve You Right To Suffer 2LP 45rpm 200 Gram Vinyl Analogue Productions QRP USA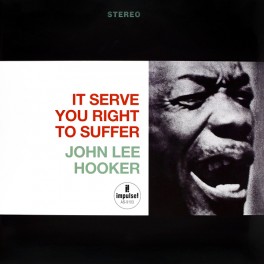 Maximize
John Lee Hooker himself did not know his exact date of birth. If he hadn't died at around the age of 80, this ageless musician would still be easily pulling the next generation to his gigs. Hooker remains a phenomenon, a mysterious figure of rhythm and blues, a charismatic king who reigns supreme in rock 'n' roll's Hall of Fame.
Limited Edition
Mastered by Kevin Gray
Mastered at AcousTech

Audiophile All Analog cut

2LP 45rpm 200 Gram Vinyl

Pressed at QRP USA

Deluxe Gatefold Cover
Originally released on Impulse in 1966, It Serve You Right to Suffer serves up eight tracks of topnotch blues, complete with the boogie groove that John Lee Hooker became synonymous with. Highlights include the title track; the uptempo, low-key "Shake It Baby"; the relaxed but rhythmically tight "Country Boy"; the danceable "Bottle Up & Go"; and the slow, sexy shuffle of "Sugar Mama." Everything here, basically, is hypnotic and engaging.

And another surprise is in store for those who compare Hooker's late recordings with those made in the Sixties. His unmistakable, raw voice has fully matured, but his incantatory style of singing appears markedly finer and more flexible. And then there is the perfect gem of a rhythm group whose sinewy sounds fill the grooves with merciless gravitational force. No wonder this is one of the blues icon's most formidable affairs.

Mastered from the original tapes by Kevin Gray and pressed on two pristine slabs of 200g vinyl at QRP, Analogue Productions' 45rpm version of this 1966 classic stands as one of the best-sounding, richest blues records you'll ever have the opportunity to hear. So many of Hooker's albums weren't recorded well, but this is an exception, and this exquisite edition does justice to all of the information in the grooves. A must own, but don't wait on it!

Track Listing:

1. Shake It Baby
2. Country Boy
3. Bottle Up And Go
4. You're Wrong
5. Sugar Mama
6. Decoration Day
7. Money
8. It Serve You Right To Suffer
Click here to listen to samples on YouTube.com ♫