Rosa Passos & Ron Carter Entre Amigos LP 180 Gram Audiophile Vinyl Chesky Records QRP 2017 USA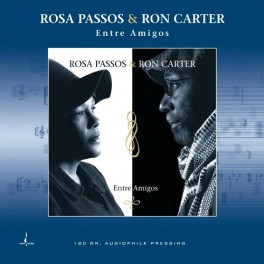 Maximize
Artist:
Rosa Passos
Title:
Entre Amigos
Catalog Number:
JR2291
Label:
Chesky Records
Reissued by:
Chesky Records
Barcode:
090368229113
Original release year:
2003
Reissue year:
2017
Number of discs:
1
Revolutions per minute:
33⅓ rpm
Disc size:
12"
Vinyl Weight Grade:
180gr
Total Item Weight:
264gr
Pressing country:
USA
For Market Release in:
USA
Added to catalog on:
July 20, 2017
Note:
Never eligible for any further discounts
Vinyl Gourmet Club:
Yes
Singer Rosa Passos and bassist Ron Carter have recreated Brazilian music in their own image. Entre Amigos is a front row seat right by Ron Carter's big, woody upright bass as he uses his singing sound, big percussive beat and uncanny harmonic sensibility to complement the come-hither bossa artistry of the inimitable Rosa Passos.
180 Gram Audiophile Vinyl
Pressed at Quality Record Pressings (QRP, USA)
"Rosa Passos made her recording debut as a leader in 1979, but this 2003 Chesky album may be her first to be released outside of South America. The Brazilian singer is paired with veteran bassist Ron Carter, who provides a solid melodic foundation for her throughout the date; the delightful Brazilian guitarist Lula Galvao; percussionist Paulo Braga, and, on a few tracks, veteran session musician Billy Drewes on tenor sax or clarinet. While the focus is clearly on the soft, effective vocals of Passos, who is extremely effective in her interpretations of bossa nova classics such as "Insensatez," "Desafinado," "Caminhos Cruzados," and "O Grande Amor," Carter's solos are also subtly swinging. Not satisfied with sticking exclusively to a well known repertoire, Passos is a superb interpreter of less familiar songs like Jobim's "Por Causa de Voce" (a duet with Carter, whose playing is phenomenal on this track) and the lively "Feitio de Oracao." The warm, very intimate sound throughout this studio date makes this a particularly memorable bossa nova release." - Ken Dryden, All Music Guide
"...an enchanting example of artistry beyond category." — Los Angeles Times

"Maybe the year's best bossa nova album...The pairing of vocalist Passos and legendary bassist Carter (plus a backing band) is heavenly." — The Boston Globe

"...sure to stand out as one of the year's best." — AllAboutJazz.com

"Rosa Passos, a guitarist and singer from Brazil, is one of the best current practioners of bossa nova." — The New York Times

There is something so alluring about Brazilian music: a suggestion of the tropical, the mysterious, and the sensual. And there is the Portuguese language, where a simple turn of phrase, a halting silence, the cool articulation of a vowel sound can summon forth feelings that require no translation. Singer Rosa Passos, bassist Ron Carter and their fellow collaborators have recreated Brazilian music in their own image. Given the splendid recording quality of this recording, you have a front row seat right by Ron Carter's big, woody acoustic bass violin, as he uses his singing sound, big percussive beat and canny harmonic sensibility to compliment the come-hither bossa artistry of the imitable Rosa Passos.
Musicians:

Rosa Passos, vocals, guitar
Ron Carter, bass
Luis Guilherme Farias Galvao (Lula), guitar
Paulo Braga, percussion
Billy Drewes, tenor sax, clarinet
Track Listing:

1. Bahia Com H
2. Insensatez
3. Desafinado
4. Sorriu Para Mim
5. A Primeria Vez
6. Garota de Ipanema
7. Por Causa de Voce
8. Feitio de Oracao
9. O Grande Amor
Click here to listen to samples on YouTube.com ♫