The Cranberries Everybody Else Is Doing It So Why Can't We? LP 180g Vinyl Analog Spark QRP 2017 USA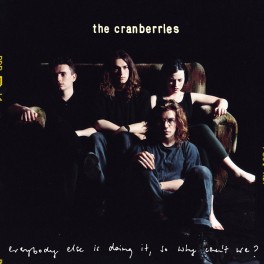 Maximize

Display all pictures
Artist:
The Cranberries
Title:
Everybody Else Is Doing It So Why Can't We?
Catalog Number:
AS00033
Label:
Island Records
Reissued by:
Analog Spark
Barcode:
888072021358
Original release year:
1993
Reissue year:
2017
Number of discs:
1
Revolutions per minute:
33⅓ rpm
Disc size:
12"
Vinyl Weight Grade:
180gr
Limited Edition:
Yes
Total Item Weight:
481gr
Pressing country:
USA
For Market Release in:
USA
Added to catalog on:
July 16, 2017
Note:
Never eligible for any further discounts
Vinyl Gourmet Club:
No
First widely available vinyl release after being out of print on vinyl for more than 24 years. Cut from the original stereo tapes by Sean Magee at Abbey Road Studios, this 180 gram LP is plated and pressed at QRP in the USA. With songs like Linger and Dreams, The Cranberries debut album from 1993 sold over 5 million copies in the U.S. alone and was No. 1 in several territories across the globe.
Limited Edition
Audiophile 180 Gram Vinyl
Pressed at QRP, USA
Mastered from Original Tapes
Cut by Sean Magee at Abbey Road Studios
Gatefold Cover by Stoughton Printing
Renowned for their trademark indie guitar sound and distinctive Celtic tinged lilting vocal style, The Cranberries rise to global fame in the early-90s was nothing short of meteoric. Home to the omnipresent singles "Linger" and "Dreams," their 1993 debut album Everybody Else Is Doing It, So Why Can't We? It re-entered the UK album charts in 1994 at No. 1, with The Cranberries being one of only four performers ever to achieve this major feat.

"Title aside, what the Cranberries were doing wasn't that common at the time, at least in mainstream pop terms; grunge and G-funk had done their respective big splashes via Nirvana and Dr. Dre when Everybody came out first in the U.K. and then in America some months later. Lead guitarist Noel Hogan is in many ways the true center of the band at this point, co-writing all but three songs with O'Riordan and showing an amazing economy in his playing, and having longtime Smiths/Morrissey producer Stephen Street behind the boards meant that the right blend of projection and delicacy still held sway. One can tell he likes Johnny Marr and his ability to do the job just right: check out the quick strums and blasts on "Pretty" or the concluding part of the lovely "Waltzing Back." O'Riordan herself offers up a number of romantic ponderings and considerations lyrically (as well as playing perfectly fine acoustic guitar), and her undisputed vocal ability suits the material perfectly. The two best cuts were the deserved smashes: "Dreams," a brisk, charging number combining low-key tension and full-on rock, and the melancholic, string-swept break-up song "Linger." If Everybody is in the end a derivative pleasure -- and O'Riordan's vocal acrobatics would never again be so relatively calm in comparison -- a pleasure it remains nonetheless, the work of a young band creating a fine little synthesis." - Ned Raggett, All Music
Track Listing:

Side A
1. I Still Do
2. Dreams
3. Sunday
4. Pretty
5. Waltzing Back
6. Not Sorry

Side B
1. Linger
2. Wanted
3. Still Can't...
4. I Will Always
5. How
6. Put Me Down
Click here to listen to samples on YouTube.com ♫