Bach Violin Concertos Yehudi Menuhin LP 180 Gram Vinyl Abbey Road EMI Hi-Q Records Supercuts EU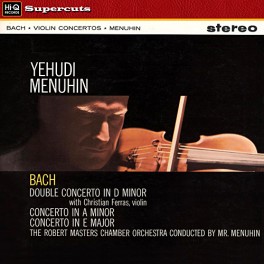 Maximize

Display all pictures
Artist:
Yehudi Menuhin
Title:
Bach Violin Concertos
Catalog Number:
HIQLP009
Label:
EMI
Reissued by:
Hi-Q Records
Barcode:
5060218890096
Original release year:
1960
Reissue year:
2011
Number of discs:
1
Revolutions per minute:
33⅓ rpm
Disc size:
12"
Vinyl Weight Grade:
180gr
Total Item Weight:
287gr
Pressing country:
EU
For Market Release in:
EU
Added to catalog on:
July 12, 2017
Note:
Never eligible for any further discounts
Vinyl Gourmet Club:
No
This classic LP of the Bach Concertos was recorded when Menuhin was in his early 40s and in his prime. Audiophile cut at Abbey Road Studios from the original stereo EMI Master Tapes, the Bach Concertos were recorded at London's famous Kingsway Hall venue in 1958 and 1959, produced and engineered by Peter Andry and Robert Gooch.
Hi-Q Records Supercuts
180 Gram Audiophile Vinyl
Cut from the Original EMI Analog Master Tapes
Mastered at Abbey Road Studios
Features Original Album Artwork
"Cut at Abbey Road Studios from the original stereo analogue master tapes with the Neumann VMS82 lathe fed an analogue pre-cut signal from a specially adapted Studer A80 tape deck with additional 'advance' playback head, making the cut a totally analogue process. Pressed using the original EMI presses at The Vinyl Factory in Hayes, England"
"The stereo balance is wonderfully successful, with Menuhin on the right in the solo concertos, so that he is the more clearly contrasted with the first violins, while in the double concerto the two players can be clearly differentiated all the time; in this sort of music stereo pays splendid dividends" - RF, GRAMOPHONE, June 1960
A minor and E minor Concertos recorded October 7 & 8, 1958, at London's famous Kingsway Hall.
Double Concerto (with the legendary French violinist Christian Ferras) recorded on July 8, 1959.
Yehudi Menuhin, violin
Christian Ferras, violin (double concerto)
Robert Masters Chamber Orchestra
Bath Festival Chamber Orchestra (double concerto)
Yehudi Menuhin, conductor
Johann Sebastian Bach (1685-1750)
Violin Concerto in A minor
1. Allegro - Andante
Double Concerto in D minor
2. Vivace - Largo ma non tanto
Double Concerto in D minor
1. Allegro
Concerto in E Major
2. Allegro - Adagio - Allegro assai