Strauss Also Sprach Zarathustra Reiner LP 180g Vinyl RCA Living Stereo Analogue Productions QRP USA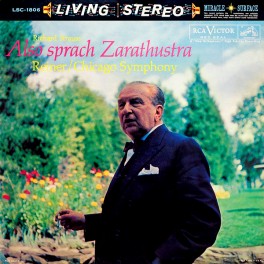 Maximize
The legendary 1954 Fritz Reiner with Chicago Symphony Orchestra performance of a Strauss war horse. Recorded directly to 2-track analog by Jack Pfeiffer, the original session tapes were used in mastering for this LP in the Analogue Productions reissue series. Among the very first Living Stereo recordings ever made, a landmark legendary performance.
TAS Super LP List - The Absolut Sound
Limited Edition
33rpm 180 Gram Audiophile Vinyl
Cut from Original Analog Master Tapes
Pressed at Quality Record Pressings QRP USA
Lacquers plated by Gary Salstrom
Mastered by Ryan K. Smith at Sterling Sound
Deluxe "tip-on" Cover
RCA's "golden age" was more like a "golden minute" - in a scant period, roughly from 1958 to 1963, the beginning of the stereo era - pure vacuum tube amplification helped produce recordings demonstrating unparalleled fidelity and warmth, lifelike presence and midband illumination.
Pressed at Quality Record Pressings and plated by Gary Salstrom. Packaged in the original tip-on jacket facsimiles that precisely duplicate the original cover art, including the "Living Stereo" logo, LSC numbers and "Shaded Dog" label. These reissues are designed from the mastering, to the cutting, to the pressing and packaging to be the finest RCA Living Stereo LPs ever reissued. These new versions are clearer than the originals and warmer and richer than past reissues!

Also Sprach Zarathustra, Op. 30 (Thus Spoke Zarathustra or Thus Spake Zarathustra) is a tone poem by Richard Strauss, composed in 1896 and inspired by Friedrich Nietzsche's philosophical novel of the same name. The composer conducted its first performance on November 27, 1896 in Frankfurt. A typical performance lasts half an hour. The work has been part of the classical repertoire since its first performance in 1896. The initial fanfare – entitled "Sunrise" in the composer's program notes – became particularly well-known after its use in Stanley Kubrick's 1968 film 2001: A Space Odyssey.
Chicago Symphony Orchestra
Fritz Reiner, conductor

Richard Strauss (1864-1949)
1. Also Sprach Zarathustra, Op. 30 (Thus Spake Zarathustra) (Part 1)
2. Also Sprach Zarathustra, Op. 30 (Thus Spake Zarathustra) (Concluded)