Elvin Jones Dear John C. 2LP 45rpm 180 Gram Vinyl Impulse! Analogue Productions Limited Edition USA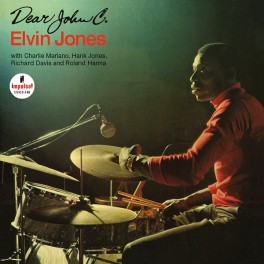 Maximize
Elvin Jones was nearing the end of his long stay with John Coltrane when he led these sessions in 1965, and while the style is small-group post-bop, the music is very different from the thick textures of the Coltrane quartet. Charlie Mariano soars overhead on a series of lyrical standards, on this great album also featuring Roland Hanna, Hank Jones and Richard Davis.
Limited Edition
Numbered Edition
Mastered by Kevin Gray
Mastered at AcousTech

Audiophile All Analog cut

2LP 45rpm 180 Gram Vinyl

Pressed at RTI USA

Deluxe Gatefold Cover
Drummer Elvin Jones may have been breaking down new rhythmic boundaries at the time with John Coltrane's Quartet but his own sessions as a leader were not all that innovative. This quartet set with altoist Charlie Mariano, bassist Richard Davis and either Roland Hanna or Hank Jones on piano is an example of how the avant-garde of the era was starting to influence the more mainstream players. The music is in general safe but enjoyable with the virtuosic bassist Richard Davis often taking solo honors on what was in reality a modern bop date.

"The second album by Elvin Jones as sole title rights leader (excluding the co-op ensemble that recorded the stunning and essential progressive jazz icon Illumination!) has the drummer sounding more like a backup musician, as he claims no compositional duties or noticeable solo space. In fact, this is one of the very best albums in the career of alto saxophonist Charlie Mariano, who occupies the bulk of lead lines and improvising responsibilities. He's so up-front, and on an instrument that is not John Coltrane's main instrument -- the tenor sax -- that the title is also a bit of a misnomer. The value of Jones as a bandleader lies in his concept of using fellow Detroiter Sir Roland Hanna or brother Hank Jones on selected tracks, or in the case of three tracks, no pianist. Bassist Richard Davis rounds out this truly brilliant ensemble of burgeoning mid-'60s jazz stars, who play an enticing collection of standards, bop, compositions of Bob Hammer, and originals from several modern sources. A stone cold bebopper and Charlie Parker devotee at the time of this recording.
Mariano is the standout performer. He swings easily but mightily on the title track paralleling Coltrane's "Milestones," stretches the Charles Mingus evergreen "Reincarnation of a Lovebird" (titled here as "Love Bird"), and pulls out all the stops with Hank Jones during an only slightly flawed (they miss two notes) version of the tricky "Anthropology." They tack a calypso beat onto Duke Ellington's "Fantazm" in a playful, modern dress, and stroll on the quirky Hammer composition "That Five-Four Bag" as an offshoot retort to Dave Brubeck's "Take Five." The three tracks sans piano include a walking version of "Everything Happens to Me"; the ballad "Smoke Rings," where the band excepting Mariano is relaxed; and Frank Sinatra's "This Love of Mine," where the emotive saxophonist dips into humor, even a bit ribald. The variety from cut to cut is engaging, and there's nothing over the top, even the drumming of Elvin Jones. With the musicality at a high level, Dear John C. needs revisiting by drumming students and jazz fans to note how teamwork, shared values, and held-in-check dynamics benefit the overall quality of music. It seems this recording is underrated when over time it should never be. Dear John C. is deserving of an excellent rating." - Michael G. Nastos, All Music

Musicians:

Elvin Jones, drums
Richard Davis, bass
Roland Hanna, piano
Hank Jones, piano
Charlie Mariano, alto saxophone

Track Listing:

1. Dear John C.
2. Smoke Rings
3. Love Bird
4. Feeling Good
5. Anthropology
6. This Love Of Mine
7. Fantazm
8. Ballade
9. Everything Happens To Me