Introducing Rubén González 2LP 180 Gram Vinyl Buena Vista Social Club World Circuit 2017 EU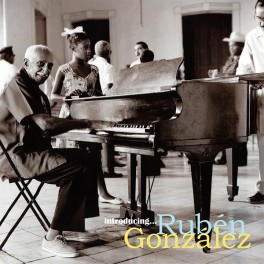 Maximize

Display all pictures
Recorded during the same sessions as Buena Vista Social Club, Rubén's debut album was released when he was 77 years old and has since sold over 600,000 copies worldwide. Recorded in just two days - without overdubs - it is a sheer delight from beginning to end, capturing the sound of a master reunited with his muse. Another Cuban treasure from World Circuit Records.
Double LP Extended Edition
Pressed on 180 Gram Vinyl
Additional unreleased track
Gatefold Cover
16 Page Booklet
Rubén González was one of the last of Cuba's great Afro-Cuban piano players. Although he had played and recorded with the band led by Enrique Jorrín, the creator of the cha-cha, for a quarter of a century, he had retired from music by the mid-'80s. Things began to change when González recorded with the Afro-Cuban All Stars in 1996. The album, A Toda Cuba Le Gusta, released the following year, helped to inspire an international fascination for Afro-Cuban music and brought González to the attention of a global audience. His performance on the Ry Cooder-produced album Buena Vista Social Club made him an international phenomenon. Signing a contract with Cooder's label, World Circuit, González released his debut solo album, Introducing...Ruben Gonzalez, at the age of 78.
Showing great promise, as a pianist, from an early age, González graduated from the Cienfuegos Conservatoire in 1934. Although he briefly attended medical school, hoping to become a doctor, the lure of music proved unsurmountable. Leaving school, González moved to Havana to become a full-time musician in 1941. After recording with influential multi-instrumentalist Arsenio Rodriguez, González joined Orquestra de los Hermanos, a group featuring Cuban percussionist Mongo Santamaria. Following an extended period in Panama and Argentina, during which he worked with tango musicians, he returned to Havana and played with a series of cabaret bands. In the early '60s, González joined Enrique Jorrín's band, remaining with the group until Jorrín's death. Although he assumed leadership of the band, González was forced, by arthritis, to announce his retirement. He maintained a low-key presence until 1996. During his return, however, González enjoyed the fame that was long overdue; he released two albums in the U.S, including 1997's Introducing... and 2000's Chanchullo. The octogenarian pianist died in December of 2003 in his home of Havana, Cuba. ~ Craig Harris
Musicians:
Bass – Orlando "Cachaíto" López
Congas – Carlos González
Congas, Guiro, Cowbell – Roberto García
Maracas – Alberto "Virgilio" Valdés
Piano – Rubén González
Trumpet – Mañuel 'Guajiro' Mirabal*
Vocals – Antonio 'Maceo' Rodríguez*, Juan de Marcos González, Manuel 'Puntillita' Licea
Track Listing:


01. La engannadora
02. Cumbancero
03. Tres lindas cubanas
04. Melodia del Rio
05. Mandinga
06. Siboney
07. Almendra
08. Tumbao
09. Como siento yo
10. Descarga Ruben y Cachaito