Eric Dolphy Far Cry LP 200 Gram Vinyl Prestige Stereo Analogue Productions Kevin Gray QRP 2017 USA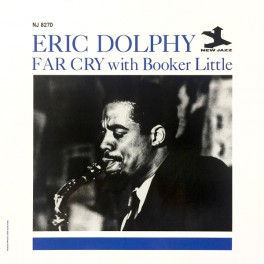 Maximize
Saxophonist and flutist Eric Dolphy and trumpeter Booker Little made a handful of recordings from 1960-1961, shortly before Little's own premature death. The first of those sessions recorded by Rudy Van Gelder is 1960's Far Cry, which in addition to the dream pairing of Dolphy and Little, features Jaki Byard (piano), Ron Carter (bass) and Roy Haynes (drums).
Limited Edition
Analogue Productions Prestige Stereo Series
200 Gram Audiophile Vinyl
Mastered by Kevin Gray at Cohearent Audio
Cut from Original Analog Master Tapes
Plated by Gary Salstrom
Pressed at Quality Record Pressings QRP USA
Deluxe high-gloss tip-on album cover
Flat edge profile and deep groove label true to original LP
Part of the ultimate audiophile Prestige stereo reissues from Analogue Productions — 25 of the most collectible, rarest, most audiophile-sounding Rudy Van Gelder recordings ever made. All mastered from the original analog master tapes by mastering maestro Kevin Gray. 200-gram LPs pressed at state-of-the-art plant Quality Record Pressings and plated by Gary Salstrom. Deep groove label pressings, tip-on jackets on thick cardboard stock.
A half-century after his death at 36, the astonishing saxophonist and flutist Eric Dolphy is still influencing and inspiring the most adventuresome jazz musicians. Dolphy was daring and iconoclastic while fully immersed in the jazz tradition. His musicianship was so thorough that innovators like Charles Mingus and John Coltrane held him in awe.

"Charlie Parker's influence permeates this 1960 session. Beyond the obvious acknowledgment on song titles ("Mrs. Parker of K.C. ['Bird's Mother']" and "Ode to Charlie Parker"), his restless spirit is utilized as a guiding light for breaking bebop molds. Far Cry finds multi-reedist Eric Dolphy in a transitional phase, relinquishing Parker's governing universal impact and diving into the next controversial phase that critics began calling "anti-jazz." On this date Booker Little's lyrical trumpet and Jackie Byard's confident grasp of multiple piano styles (though both steeped in hard bop) were sympathetic to the burgeoning "avant-garde" approach that Dolphy displays, albeit sparingly, on this session. Far Cry contains the initial performance of Dolphy's future jazz classic "Miss Ann," along with his first recorded solo alto sax performance on "Tenderly," in which Dolphy bridges the gap between the solo saxophone performances of Coleman Hawkins and Anthony Braxton." - Al Campbell, All Music
Musicians:

Eric Dolphy, alto sax, bass clarinet, flute
Booker Little, trumpet
Jaki Byard, piano
Ron Carter, bass
Roy Haynes, drums
Track Listing:
Side A
1. Mrs. Parker of K.C.
2. Ode to Charlie Parker
3. Far Cry

Side B
1. Miss Ann
2. Left Alone
3. Tenderly
4. It's Magic
Click here to listen to samples on YouTube.com ♫