Neil Young Decade 3LP Vinyl Limited Edition Remaster Bernie Grundman Reprise Records 2018 USA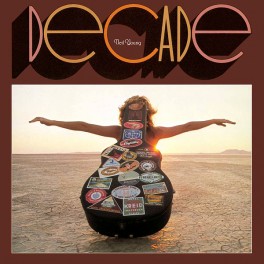 Maximize
One of the most influential artists of all time, Neil Young has set a standard of artistic integrity and iconoclastic creativity. Before starting his multi-platinum solo career, he was a founding member of the folk-rock band Buffalo Springfield and worked with the groups Crazy Horse and Crosby, Stills and Nash, all featured in this amazing compilation.
3LP HQ Vinyl Pressing & Original Artwork
Cut by Chris Bellman at Bernie Grundman Mastering
This 1977 compilation album of 35 songs features Neil Young recorded between 1966 and 1976 with groups including Buffalo Springfield, Crazy Horse, Crosby Stills Nash, as well as The Stills-Young Band.
Remastered reissue of Neil Young's beloved 1977 Reprise Records retrospective Decade pressed in its original 3LP configuration with two photo reproductions by Henry Diltz. There may not ever be an artist more in need of a compilation of hits than the mercurial Neil Young circa the mid-70s. His fruitful yet footloose late-60s/early-70s output was legendary as this 35-track, 10 year time capsule (1966-1976) certainly illustrates. From Buffalo Springfield game changers ("Mr. Soul," "Down To The Wire," "Broken Arrow," "Expecting to Fly") to solo masterpieces ("Heart of Gold," "Old Man," "The Needle And The Damage Done") to lightning in a bottle Crosby, Stills, Nash & Young numbers ("Helpless," "Ohio") to the unbridled anthems of Neil Young & Crazy Horse ("After The Gold Rush," "Down By The River," "Cinnamon Girl," "Cortez the Killer," "Like a Hurricane"), the long out of print Decade truly has it all!
"Given the quirkiness of Neil Young's recording career, with its frequent cancellations of releases and last-minute rearrangements of material, it is a relief to report that this three-disc compilation is so conventional and so satisfying. A 35-track selection of the best of Young's work between 1966 and 1976, it includes songs performed by Buffalo Springfield, Crosby, Stills, Nash & Young, and the Stills-Young Band, as well as solo work. In addition to five unreleased songs, Decade offers such key tracks as the Springfield's "Mr. Soul," "Broken Arrow," and "I Am a Child"; "Sugar Mountain," a song that had appeared only as a single before; "Cinnamon Girl," "Down by the River," and "Cowgirl in the Sand" from Everybody Knows This Is Nowhere; "Southern Man" and the title track from After the Gold Rush; and "Old Man" and the chart-topping "Heart of Gold" from Harvest. This is the material that built Young's reputation between 1966 and 1972, although he is more idiosyncratic with the later material, including the blockbusters "Like a Hurricane" and "Cortez the Killer" but mixing in more unreleased recordings as the set draws to a close. He seems intent on making the album a listenable one that will appeal to a broad base of fans, and he succeeds despite the exclusion of much of the harrowing work of 1973-1975. Nevertheless, the album is an ideal sampler for new listeners, and since there is no one-disc Young compilation covering any significant portion of his career, this lengthy chronicle is the place to start." - William Ruhlmann, All Music
Track Listing:

Side A
01. Down To the Wire - Buffalo Springfield
02. Burned - Buffalo Springfield
03. Mr. Soul - Buffalo Springfield
04. Broken Arrow - Buffalo Springfield
05. Expecting To Fly - Buffalo Springfield
06. Sugar Mountain

Side B
07. I Am A Child - Buffalo Springfield
08. The Loner
09. The Old Laughing Lady
10. Cinnamon Girl - Neil Young & Crazy Horse
11. Down By the River - Neil Young & Crazy Horse

Side C
01. Cowgirl In the Sand - Neil Young & Crazy Horse
02. I Believe In You - Neil Young & Crazy Horse
03. After the Gold Rush - Neil Young & Crazy Horse
04. Southern Man - Neil Young & Crazy Horse
05. Helpless - Crosby, Stills, Nash & Young

Side D
06. Ohio - Crosby, Stills, Nash & Young
07. Soldier
08. Old Man
09. A Man Needs A Maid
10. Harvest
11. Heart of Gold
12. Star of Bethlehem

Side E
01. The Needle and The Damage Done
02. Tonight's The Night, Pt. 1
03. Tired Eyes
04. Walk On
05. For the Turnstiles
06. Winterlong
07. Deep Forbidden Lake

Side F
08. Like A Hurricane - Neil Young & Crazy Horse
09. Love Is A Rose
10. Cortez the Killer - Neil Young & Crazy Horse
11. Campaigner
12. Long May You Run - The Stills-Young Band
Click here to listen to samples on YouTube.com ♫