Angelo Badalamenti Music From Twin Peaks LP 180g Vinyl Original Soundtrack Warner Rhino 2017 EU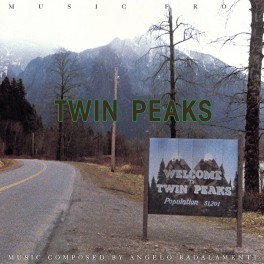 Maximize

Display all pictures
Artist:
Angelo Badalamenti
Title:
Music From Twin Peaks
Catalog Number:
081227940300
Label:
Warner
Reissued by:
Rhino
Barcode:
081227940300
Original release year:
1990
Reissue year:
2017
Number of discs:
1
Revolutions per minute:
33⅓ rpm
Disc size:
12"
Vinyl Weight Grade:
180gr
Total Item Weight:
286gr
Pressing country:
EU
For Market Release in:
EU
Added to catalog on:
June 14, 2017
Note:
Limited Eligibility for Discounts
Vinyl Gourmet Club:
No
Composer Angelo Badalamenti set the tone for David Lynch's bizarre television series with a haunting theme created from electric piano, synthetic strings, and the twangiest guitar this side of Duane Eddy. The love theme sounds like a funeral march, and appropriately so ad the series' central character was found dead at the beginning of the first episode.
"The timeless score to David Lynch's television show doesn't need any visuals to achieve the same sense of unsettling beauty." - Pitchfork

"Series co-creator David Lynch has always displayed a musician's facility for nimble, suggestive sound arrangements, going back to his first feature film, Eraserhead. But the potency of his soundtracks hit a new level after the director crossed paths with composer Angelo Badalamenti in the 1980s. Badalamenti contributed original compositions to Lynch's Blue Velvet and played piano during the performance of the titular pop song. For the first season of "Twin Peaks," he wrote all the music, with Lynch providing lyrics to tunes sung by Julee Cruise.

In addition to the two mood-setting triumphs that anchor the first season soundtrack to "Twin Peaks," Badalamenti also came up with brilliant evocations of the show's various dramatic modes. The bluesy "Freshly Squeezed" defines the show's approach to seduction. "Dance of the Dream Man" captures the finger-snapping swing of its surreality. Some of the tracks serve multiple purposes, like "Audrey's Dance," which starts out as an accessory to chic sleuthing, then stretches out into a dreamy organ drone punctuated by blasts of saxophone and a lascivious clarinet. In these performances, the composer's keyboard is frequently the star, though jazz drummer Grady Tate's rhythms are another consistent highlight. Without his subtle, driving percussion, Badalamenti's mixture of vintage pop and jazz sonics—at once familiar and plenty strange—might not have come off nearly so well.

A great score doesn't have to play well as an album on its own terms. But this one does. Its tunes are so appealing, Lynch sometimes rips them from their status as commentary on the show's action and places this music directly into the narrative world. Badalamenti's pieces show up in jukeboxes that the characters use and in performances by local musicians at the town's watering holes. When Agent Cooper tries to remember a portion of that crucial dream, he snaps his fingers to the rhythm of the music that originally accompanied the images in his head." Pitchfork
"Composer Angelo Badalamenti (Cousins) set the tone for David Lynch's bizarre television soap with a haunting theme created from electric piano, synthetic strings, and the twangiest guitar this side of Duane Eddy. The love theme, appropriately enough, sounds like a funeral march. (The series' central character was found dead at the beginning of the first episode.) The rest of the music, instantly recognizable to anyone who saw even one episode of the series, borders on fever-dream jazz. Lynch favorite Julee Cruise sings the only three vocal songs. The music from Twin Peaks is dark, cloying, and obsessive -- and one of the best scores ever written for television." - Brian Mansfield, All Music
Track Listing:
01. Twin Peaks Theme
02. Laura Palmer's Theme
03. Audrey's Dance
04. The Nightingale
05. Freshly Squeezed
06. The Bookhouse Boys
07. Into The Night
08. Night Life In Twin Peaks
09. Dance Of The Dream Man
10. Love Theme From Twin Peaks
11. Falling