Peter Gabriel So LP 180 Gram Vinyl Half-Speed Remaster + Download Real World Records 2016 EU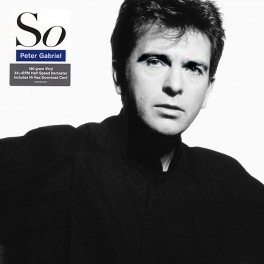 Maximize
Artist:
Peter Gabriel
Title:
So
Catalog Number:
PGLPR5
Label:
Virgin
Reissued by:
Real World Records
Barcode:
884108004548
Original release year:
1986
Reissue year:
2016
Number of discs:
1
Revolutions per minute:
33⅓ rpm
Disc size:
12"
Vinyl Weight Grade:
180gr
Extras:
Download Code
Total Item Weight:
293gr
Pressing country:
Holland
For Market Release in:
EU
Added to catalog on:
June 2, 2017
Note:
Not eligible for any further discounts
Vinyl Gourmet Club:
No
So was a watershed release in Peter Gabriel's career. Its marriage of the artistic and the commercial made for an indisputable success, with the album quickly sitting atop the album charts on both sides of the Atlantic. Features some intriguing collaborations, with Laurie Anderson on This Is The Picture, Kate Bush on Don't Give Up and Youssou N'Dour on In Your Eyes.
Audiophile 180 Gram Vinyl 33rpm
High Quality Half-Speed Remaster
Cut by Matt Colton at Alchemy Mastering
Tony Cousins mastering at Metropolis from Original Masters
Limited Time, One Time Download of the entire album

*
The inaugural release in his two-letter, single-syllable trilogy, Peter Gabriel's So has been half-speed remastered and cut to lacquers at 33RPM, on heavyweight 180g vinyl. Vinyl cut by Matt Colton at Alchemy Mastering, mastered by Tony Cousins at Metropolis and overseen by Peter's main sound engineer Richard Chappell. Sleeve artwork and inner bag as per the original vinyl release. Albums also include choice of digital download (Hi-Res 24/96k or 16/44.1k).

The first of Peter Gabriel's solo studio albums to have a proper title 1986's So was a watershed release with its perfect marriage of the artistic and the commercial. The album, produced by Daniel Lanois, features intriguing collaborations with the likes of Laurie Anderson, Kate Bush and Youssou N'Dour and contains some of Peter's most recognizable and popular songs such as "In Your Eyes," "Red Rain," "Sledgehammer" and "Big Time."

"There is always wisdom from hindsight. And because 'So' was my most successful record, I think that a lot of people, particularly in America, think that it was designed to be that. From the other end of it, you never really know which records are going to do well...You know certain songs have a better chance of getting on the radio when you do them, for sure, but I think part of the reason that 'So' works so well was that the band was really firing off each other and we had a great sound and production team. It was compact in the process and the way it was put together." - Peter Gabriel

So is the fifth studio album (and seventh album overall) by British rock musician Peter Gabriel, released in 1986. Many of its songs reflect a more conventional pop-writing style and became radio hits, others still retain Gabriel's dark, brooding sense of experimentalism. It is Peter Gabriel's second album produced by Canadian artist Daniel Lanois. The previous year, the two of them had worked together on Birdy. Lanois had been previously known for his ambient collaborations with Brian Eno as well as producing U2 since 1984. As he had with the soundtrack to the film "Birdy," Lanois brought many of his own ambient sensibilities to this recording.

"It has been heartwarming to see the return of vinyl," says Gabriel. "Even though I loved being free of its limitations in the digital world, there is still a warmth and presence to vinyl that somehow makes it a more natural human companion. It is great to see a new generation learning the secrets of the grooves."
Track Listing:


Side A
1. Red Rain
2. Sledgehammer
3. Don't Give Up
4. That Voice Again

Side B
5. Mercy Street
6. Big Time
7. We Do What We're Told (milgram's 37)
8. This Is The Picture (excellent birds)
9. In Your Eyes
*(download available at either 44.1kHz/16-bit CD quality AIFF file or 96kHz/24-bit WAV file)
Click here to listen to samples on YouTube.com ♫