China Moses Nightintales LP 180 Gram Audiophile Vinyl MPS Music Optimal Germany 2017 EU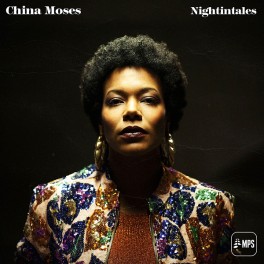 Maximize

Display all pictures
Artist:
China Moses
Title:
Nightintales
Catalog Number:
0211735MS1
Label:
MPS
Reissued by:
MPS
Barcode:
4029759117353
Original release year:
2017
Number of discs:
1
Revolutions per minute:
33⅓ rpm
Disc size:
12"
Vinyl Weight Grade:
180gr
Total Item Weight:
239gr
Pressing country:
Germany
For Market Release in:
EU
Added to catalog on:
May 25, 2017
Note:
Never eligible for any further discounts
Vinyl Gourmet Club:
No
China Moses is synonymous with powerful seduction. The commanding, groove-oriented soul-jazz of Nightintales is in her sweet spot channeling Dinah Washington's explosive emotion into a heady set of vintage R&B and cabaret sass. Uptempo tracks like 'Watch Out' and 'Running' are attitude-packed showpieces for her huge voice, but she's lethal on the standout ballad 'Whatever'.
Vinyl Gourmet Best New Music 2017
Audiophile 180 Gram Vinyl
Pressed at Optimal Media in Germany
"China Moses is joyous. She loves nothing better than to delve into themes - to explore, expand and explode them.
After traversing the Great American Songbook, she now turns her attention to carving out her own terrain. The resulting twelve songs are destined to become new standards. Like an archer, Moses draws from the quiver of her musical forbears, sending arrows true and further than those who preceded her.
Unconventional and unfettered, China challenges conventions, breaking free of boundaries and constraints. Her mezzo voice glides silkily on sumptuous ballads, filled with passionate syncopation - unadorned, yet immodest.
She is the rare young, female artist - capable of swinging with the finest and drawing on her innate mastery of tempo. Her R&B heritage allows her to smile around a phrase, carry emotions across a lyric and infuse profundity in every note.
Surrounded by a cross-genre cadre of musicians, China Moses is poised to reinvent the Jazz Vocal archetype for a new age, jettisoning that which is unneeded on her trajectory - taking listeners beyond the known to a universe uniquely her own." - André Manoukian
China Moses has carved out a career with distinctive style: She's done Disney voiceovers, hosted French MTV, and released a fiery full-length dedication to Dinah Washington. But the commanding, groove-oriented soul-jazz of Nightintales is in her sweet spot—channeling Dinah's explosive emotion into a heady set of vintage R&B and cabaret sass. Uptempo tracks like "Watch Out" and "Running" are attitude-packed showpieces for her huge voice, but she's lethal on the standout ballad "Whatever." Still, Nighintales' best moment is when Moses lets loose over the stuttering beat of "Hungover."
Track Listing:

01. Running
02. Put It On The Line
03. Disconnected
04. Ticking Boxes
05. Blame Jerry
06. Watch Out
07. Nicotine
08. Lobby call
09. Hungover
10. Whatever
11. Breaking Point
Click here to listen to samples on YouTube.com ♫