Bill Evans Riverside Recordings 22LP 45rpm 200 Gram Vinyl Box Set Analogue Productions QRP 2017 USA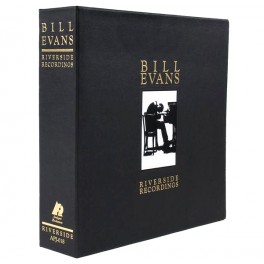 Maximize

Display all pictures
Artist:
Bill Evans
Title:
Riverside Recordings
Catalog Number:
AAPJ 0018
Label:
Riverside Records
Reissued by:
Analogue Productions
Barcode:
753088101878
Edition:
Limited Collectors Edition
Original release year:
1984
Reissue year:
2017
Number of discs:
22
Revolutions per minute:
45 rpm
Disc size:
12"
Vinyl Weight Grade:
200gr
Limited Edition:
Yes
Total Item Weight:
6500gr
Pressing country:
USA
For Market Release in:
USA
Added to catalog on:
May 6, 2017
Vinyl Gourmet Audiophile TOP 100:
Yes
Note:
Never eligible for any further discounts
Vinyl Gourmet Club:
No
Of everything Analogue Productions has reissued, nothing has come close in sales or accolades to the 45-RPM versions of Bill Evans titles from his Riverside catalog. And now Analogue Productions has compiled all of them into one irresistible box set package. Includes facsimiles of each original jacket along with an 18-page booklet detailing Evans' career and Riverside era.
Featured in Vinyl Gourmet Audiophile TOP 100

Limited Edition
Numbered Edition
Mastered from the Original Analog Master Tapes
Cut by Steve Hoffman & Kevin Gray
11 Albums double LP 45rpm
22 LP Pressed at QRP, USA
200 Gram Audiophile Vinyl
Box Set with 18 page booklet
All Of Bill Evans 200g Vinyl Riverside releases Cut at 45 RPM plus The Cannonball Adderley Know What I Mean? Release For Which Evans Was Such An Important Contributor.
Titles Included: New Jazz Conceptions, Everybody Digs Bill Evans, Portrait In Jazz, Explorations, Sunday At The Village Vanguard, Waltz For Debby, Moonbeams, Know What I Mean?, Interplay, How My Heart Sings! and At Shelly's Manne-Hole.
Track Listing:
Everybody Digs Bill Evans
LP 1
1. Minority (Gigi Gryce)
2. Young And Foolish (Horwit-Hague)
3. Lucky To Be Me (Comden, Green-Bernstein)
4. Night And Day (Cole Porter)
5. Epilogue (Bill Evans)
LP 2
1. Tenderly (Walter Gross)
2. Peace Piece (Bill Evans)
3. What Is There To Stay? (Harburg-Duke)
4. Oleo (Sonny Rollins)
5. Epilogue (Bill Evans)
Explorations
LP 1
1. Israel (John Carisi)
2. Haunted Heart (Deitz-Schwartz)
3. Beautiful Love (Gillespie-King-Van Alstyne-Young)
4. Elsa (Earl Zindars)
LP 2
1. Nardis (Miles Davis)
2. How Deep Is The Ocean? (Irving Berlin)
3. I Wish I Knew (Gordon-Warren)
4. Sweet and Lovely (Arnheim-Tobias-Lemare)
Portrait In Jazz
LP 1
1. Come Rain Or Come Shine (Mercer-Arlen)
2. Autumn Leaves (Mercer-Kosmo-Prevert)
3. Witchcraft (Leigh-Coleman)
4. When I Fall In Love (Heyman-Young)
3. Peri's Scope (Bill Evans)
LP 2
1. What Is This Thing Called Love? (Cole Porter)
2. Spring Is Here (Rodgers & Hart)
3. Some Day My Prince Will Come (Morey-Churchill)a
2. Blue In Green (Davis-Evans)
At Shelly's Manne-Hole, Hollywood
LP 1
1. Isn't It Romantic (Rodgers, Hart)
2. The Boy Next Door (Youmans, Harbach, Greene)
3. Wonder Why (Brodszky, Cahn)
4. Swedish Pastry (Barney Kessel)
LP 2
1. Our Love Is Here To Stay (G & I Gershwin)
2. 'Round Midnight (Monk, Williams)
3. Stella By Starlight (Young, Washington)
4. Blues IN "F" (Chuck Israels)
How My Heart Sings!
LP 1
1. How My Heart Sings (Earl Zindars) Zindars Publ. Co.-BMI
2. I Should Care (Cahn-Stordahl-Weston) Cahn Music/Hanover Music/Stordahl Music-ASCAP
3. In Your Own Sweet Way (Dave Brubeck) Derry Music Co.-BMI
4. Walking Up (Bill Evans) TRO-Acorn-BMI
LP 2
1. Summertime (Gershwin-Heyward-Gershwin) Chappell & Co., Inc./Gershwin Publ.-ASCAP
2. 34 Skidoo (Bill Evans) TRO-Acorn-BMI
3. Ev'rything I Love (Cole Porter) Chappell Music-ASCAP
4. Show-Type Tune (Bill Evans) TRO-Acorn-BMI
Interplay
LP 1
1. You And The Night And the Music (Dietz-Schwartz) (ASCAP)
2. When You Wish Upon A Star (Washington-Harline) (ASCAP)
3. I'll Never Smile Again (Ruth Lowe) (ASCAP)
LP 2
1. Interplay (Bill Evans) (BMI)
2. You Go To My Head (Gillespie-Coots) (ASCAP)
3. Wrap Your Troubles In Dreams(Moll-Koehler-Barris) (ASCAP)
Moonbeams
LP 1
1. RE: Person I Knew (Bill Evans) TRO-Acorn-BMI
2. Polka Dots and Moonbeams (Burke-Van Heusen) Bourne Co./Music Sales Corp.-ASCAP
3. I Fall In Love Too Easily (Styne-Cahn) SBK Feist Catalog-ASCAP
4. Stairway To the Stars (Parish-Malneck-Signorelli) SBK Robbins Catalog-ASCAP
LP 2
1. If You Could See Me Now (Dameron-Sigman) SBK Robbins Catalog-ASCAP
2. It Might As Well Be Spring (Rodgers-Hammerstein) Williamson Music ASCAP
3. In Love In Vain (Kern-Robin) T.B. Harms, Inc.-ASCAP
4. Very Early (Bill Evans) TRO-Acorn-BMI
Waltz for Debby
LP 1
1. My Foolish Heart
2. Waltz For Debby
3. Detour Ahead
LP 2
1. My Roamnce
2. Some Other Time
3. Milestones
Sunday at the Village Vanguard
LP 1
1. Gloria's Step (Scott LaFaro) Orpheum Music-BMI
2. My Man's Gone Now (G. & I. Gershwin) Chappell Music-ASCAP
3. Solar (Miles Davis) Prestige Music-BMI
LP 2
1. Alice In Wonderland (Fain-Hilliard) Walt Disney Music-ASCAP
2. All Of You (Cole Porter) Chappell Music-ASCAP
3. Jade Visions (Scott LaFaro) Orpheum Music-BMI
Know What I Mean? (Cannonball Adderley)
LP 1
1. Waltz for Debby
2. Goodbye
3. Who Cares? (take 5)
4. Venice
LP 2
1. Toy
2. Elsa
3. Nancy (With the Laughing Face)4
4. Know What I Mean? (re-take 7)
New Jazz Conceptions
LP1
1. I Love You
2. Five
3. I Got It Bad and That Ain't Good
4. Conception
5. Easy Living
6. Displacement
LP2
7. Speak Low
8. Waltz for Debby
9. Our Delight
10. My Romance
11. No Cover, No Minimum