Roy Orbison The All-Time Greatest Hits 2LP 180 Gram Vinyl Mobile Fidelity Limited Edition MFSL USA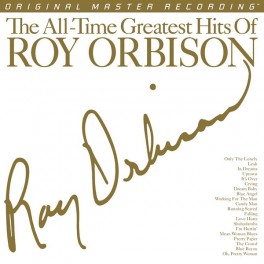 Maximize

Display all pictures
Rare is the voice, personality, and image that defines cool for more than 50 years. But Roy Orbison simply had it all – the tender tone, the laidback charisma, the mellifluous baritone, the cover-magazine looks, the gazing eyes hidden behind black Ray-Ban shades. And of course, the songs. Few singers ever captured such a rainbow of romantic emotions so effortlessly.
Limited Edition
Numbered Edition
2LP 33rpm 180 Gram High Definition Vinyl
Pressed at RTI in the USA
Gain 2 Ultra Analog System Half-Speed mastering by MFSL
Mastered by Shawn R. Britton & Rob LoVerde
Cut from the Original Master Tapes
Special Static Free & Dust Free Inner Sleeves
Deluxe Gatefold Cover
Roy Orbison The All-Time Greatest Hits of Roy Orbison on Numbered-Edition 180g 2LP from Mobile Fidelity. Pressed at RTI and Mastered from the Original Master Tapes: Contains Four Songs Named to Rolling Stone's List of 500 Greatest Songs of All Time. Collection Influenced Tom Petty, Tom Waits, Bruce Springsteen, and Hundreds of Other Legends. Rock and Roll 101 starts here!

Few singers ever captured such a rainbow of romantic emotions – longing, heartache, hope, loss, melancholy – with such effortlessness, smoothness, and suaveness. An early rock n' roll pioneer that defied songwriting tradition, Orbison is at home whether playing with orchestral strings, rockabilly bands, doo-wop singers, jumping horn sections, or swinging pop groups. Like fellow Sun Records alums Johnny Cash and Elvis Presley, his art is timeless, his command irreproachable.

No wonder, then, that a basic search literally turns up dozens upon dozens of compilations. Demand for Orbison's trademark vocal shiver and pussycat purr has never been greater. But with so many duplicative collections available, which one to get? Mobile Fidelity recognized that none of the available releases had the necessary mark of quality – namely, first-rate sound. So they changed that by providing a necessary sonic update to the best collection – a 1972 set that has never once gone out-of-print.

Remastered from the original analog master tapes for the first time ever, here are all of the Rock and Roll Hall of Fame member's finest singles for Monument Records in one place, all claiming a clarity, richness, tonality, and presence that has never been before experienced outside of the studio. Captured by legendary producer Fred Foster, Orbison's famous voice now reverberates with a realistic decay and astonishing purity that puts all previous compilations to shame.

And there's no arguing with the 20-song track list, which includes no fewer than 15 Top 100 singles, beginning with the career-launching "Only the Lonely" and climaxing with the international smash "Oh, Pretty Woman," the last cut the Grammy winner made for Monument before departing for MGM in 1965. There is not a weak tune on this album, and you will never hear them sound better.
Track Listing:

01. Only the Lonely
02. In Dreams
03. Uptown
04. Candy Man
05. Working For The Man
06. Dream Baby
07. Crying
08. Mean Woman Blues
09. Running Scared
10. Love Hurts
11. Shahadaroba
12. Blue Angel
13. Falling
14. Leah
15. I'm Hurtin'
16. It's Over
17. Blue Bayou
18. Pretty Paper
19. Oh, Pretty Woman
20. The Crowd
Click here to listen to samples on YouTube.com ♫