The Bassface Swing Trio Tribute To Cole Porter LP 180 Gram Audiophile Vinyl DSD Stockfisch Records EU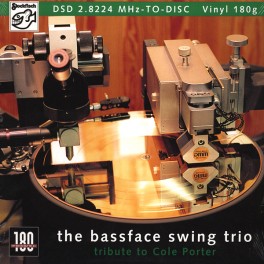 Maximize

Display all pictures
Artist:
The Bassface Swing Trio
Title:
Tribute To Cole Porter
Catalog Number:
SFR 357.8056.1
Label:
Stockfisch Records
Barcode:
4013357805613
Edition:
DSD-to-Disc
Original release year:
2008
Number of discs:
1
Revolutions per minute:
33⅓ rpm
Disc size:
12"
Vinyl Weight Grade:
180gr
Limited Edition:
Yes
Total Item Weight:
309gr
Pressing country:
Germany
For Market Release in:
EU
Added to catalog on:
May 3, 2017
Note:
Never eligible for any further discounts
Vinyl Gourmet Club:
No
A great small jazz band, a legendary American composer and marvelous sound, a mixture to create one of the most remarkable sound recordings of The Bassface Swing Trio and their Tribute To Cole Porter, featuring singer Barbara Burkle, working a fine selection of Cole Porter jazz tunes. Incredible sound on this DSD-to-Disc cut at Pauler Acoustics.
Limited Edition
180 Gram Audiophile Vinyl
DMM Direct Metal Mastering
Mastered at Pauler Acoustics
High Performance DSD-to-Disc
Pallas Pressing
Made in Germany
Brilliant dynamic vocals from jazz singer Barbara Burkle accompanied by the likes of pianist Thilo Wagner, bassist Jean-Philippe Wadle and drummer Florian Hermann. High-quality performances of Cole Porter songs like "Night and Day", "Easy To Love" and "It's De-Lovely".
The Stockfisch sound engineers mixed the sound of seven microphones in an analog mixer to a stereo sum. They enjoyed this creative listening phase whilst doing this exciting down-mix. The musicians played two sets of four pieces - live, there were no edits or digital tricks involved.

For all aficionados of vinyl DSD 2.8224 MHz-TO-DISC Vinyl 180g LP.
Musicians:

Thilo Wagner, piano
Jean-Philippe Wadle, bass
Florian Hermann, drums
Barbara Burkle, vocals
Track Listing:
1. Dream Dancing
2. Easy To Love
3. Night And Day
4. Love For Sale
5. It's De-Lovely
6. You'd Be So Nice To Come Home To
7. Ev'ry Time We Say Goodbye
8. I Love Paris
Click here to listen to samples on YouTube.com ♫