Larry Coryell Spaces LP Vinyl John McLaughlin Chick Corea Miroslav Vitous Billy Cobham Vanguard USA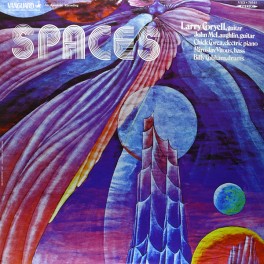 Maximize

Display all pictures
Artist:
Larry Coryell
Title:
Spaces
Label:
Vanguard
Reissued by:
Vanguard
Barcode:
015707934510
Original release year:
1970
Reissue year:
2012
Number of discs:
1
Revolutions per minute:
33⅓ rpm
Disc size:
12"
Limited Edition:
Yes
Total Item Weight:
231gr
Pressing country:
USA
For Market Release in:
USA
Added to catalog on:
May 1, 2017
Note:
Not eligible for any further discounts
Vinyl Gourmet Club:
No
Fusion pioneer guitarist Larry Coryell with quite an all-star group including fellow guitarist John McLaughlin, bassist Miroslav Vitous, drummer Billy Cobham and Chick Corea on electric keyboard, all of them major fusion musicians. The music on this amazing album has its energetic moments, but also contains some lyricism often lacking in fusion of the mid-70s.
Limited Edition
Mastered by Alex DeTurk at Masterdisk
Generally seen as Larry Coryell's best-known work, this 1970 album has more than stood the test of time. Cut the year before with one of the richest line-ups you could imagine, it featured Larry playing alongside John McLaughlin on second guitar, Chick Corea on electric piano, Miroslav Vitous on bass and Billy Cobham on drums. "Spaces" was an apt title for, not only was it the title of the opening track, it also suggested the nature of the musical landscape on which the players were operating. In the best traditions of jazz, the material was structured for extension and improvisation, and gave them space to listen to each other and to play off each other. As the Rolling Stone review at the time put it, "Coryell generally delivers more rapid-fire strings of notes, while McLaughlin leaves more spaces and is perhaps more into texture, but each player jumps into the other's most characteristic territory on numerous occasions."
It is indeed the quick-fire interchanges between the two that really lift this album to the status it has always enjoyed, as each one picks up on the moods and feels generated by the other. They swap lines frenetically on Larry's own tune 'Wrong Is Right', sounding almost scattershot at times, though on the following track, 'Chris', it is their lyricism that leads the way on what is the most open-ended improvised piece here. Before these two they had delightfully re-created the feels and swing stylings of Django Reinhardt on the acoustic 'Rene's Theme', and gentler explorations on 'Gloria's Step' that also develop into a haunting vehicle for Miroslav Vitous on bass as he joins the improvisations.
World-class recording engineer David Baker recorded the classic Spaces with jazz guitarists John McLaughlin and Larry Coryell, originally released in 1970. It was one of, if not Baker's first involvement with the Vanguard label and Apostolic Studios in New York City. Baker, who died suddenly in 2004 at age 58, had a resume filled with notable performers and was said to have worked on more than 2,000 recording sessions. Besides Spaces, Baker's legacy included Buffy Saint-Marie's first demo recording; Shirley Horn records, including You Won't Forget Me with Miles Davis; Medeski, Martin & Woods records; Al Dimeola records and many others.
Musicians:
Bass – Miroslav Vitous
Drums – Billy Cobham
Electric Piano – Chick Corea
Guitar – John McLaughlin, Larry Coryell
Track Listing:

01. Spaces (Infinite)
02. Rene's Theme
03. Gloria's Step
04. Wrong Is Right
05. Chris
06. New Year's Day in Los Angeles 1968
Click here to listen to samples on YouTube.com ♫