Christian McBride Kind Of Brown 2 LP 210 Gram Vinyl Gatefold Limited Edition Mack Avenue Records USA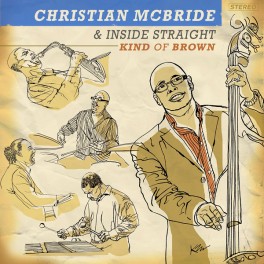 Maximize

Display all pictures
Since 1989 when Christian McBride moved to New York at the age of 17, the bassist has been one of the most important and influential artists of his generation. He's not only developed into a top-tier solo artist who is equally adept on acoustic and electric bass, but he's also been the go-to bass sideman, with support duties ranging from Herbie Hancock and Chick Corea to Diana Krall and Sting.
TAS Super LP List - The Absolut Sound
Limited Edition (2000 units)
210 Gram Audiophile Vinyl
Cut by Ryan K. Smith at Sterling Sound
Double LP Gatefold
Download Code
McBride's debut album with Mack Avenue Records, Kind of Brown, features his new quintet, Inside Straight. In addition to McBride on bass, the quintet consists of pianist Eric Reed, alto saxophonist Steve Wilson, drummer Carl Allen, vibraphonist Warren Wolf.
"McBride and his quintet Inside Straight have a traditional allusion in both their group name and album title. While that fact may reflect on the music's accessibility and place in straightforward jazz lineages, it doesn't mean there's anything stale and stodgy on Kind of Brown. The disc contains the swinging side of McBride's work, incorporating some hard bop influences. The songs bounce along, and while McBride's playing never disappoints, he leaves room for his bandmates, and it's a tight outfit. The music may be straight-ahead, but it's not starchy; cuts like "Used 'Ta Could" emphasize the light-hearted pleasure available. One of the better surprises here is the unveiling of Warren Wolf, Jr. on vibes. McBride's former student holds his own here, showing not only flash but also a strong ability to integrate his playing with the vets surrounding him. While Kind of Brown resists stylistic novelty, it does provide a highly entertaining way to revisit that old Blue Note sound while taking in something fresh." - Justin Cober-Lake, PopMatters

"...the best evalution of this album lies in the fact that, before listening, you might beel a little stuffy about McBride's having shamelessly, with only a single color change, lifted the title of Miles' by-now classic "Kind of Blue." After listening, you'll be too much on Christian's side to let it bother you..." - Orrin Keepnews, from liner notes

"This solid group rekindles the classic 60s Blue Note sound... Released as a limited edition 210-gram vinyl double LP set." - Bill Milkowski, The Absolute Sound
During the 2008 Detroit International Jazz Festival, the city-based Mack Avenue Records announced that Christian McBride, one of the most prominent jazz artists of his generation, had signed onto the label. For his June 16th Mack Avenue recording debut, the 36-year-old bassist/bandleader/educator/artistic director/Grammy Award winner delivers the remarkable Kind Of Brown, a 10-track album featuring his new acoustic jazz quintet Inside Stright, comprised of old friends, pianist Eric Reed, alto saxophonist Steve Wilson and drummer Carl Allen, as well as newcomer vibraphonist Warren Wolf, one of McBride's former students.

Kind Of Brown is the Mack Avenue debut for dynamic composer, bandleader and musician Christian McBride. Although he's has toured and recorded extensively with his jammy, electric Weather Report-like band, Christian felt the primordial urge to return to New York's hallowed jazz basement, the Village Vanguard. However, since the Vanguard doesn't allow any "rock n' roll music" he assembled Warren Wolf, Carl Allen, Eric Reed and Steve Wilson to form Inside Straight. The quintet holed up in the famed Fantasy Studios (Berkeley, CA) to record Kind Of Brown, a release fueled by the imagination/spirit/sweat of all those whom had toiled at the fabled studio before them, a truly encyclopedic roster.

This two LP set, 33 1/3 rpm, is 210 gram vinyl for the boomingest bass. The gatefold packaging features liner notes by famed producer Orrin Keepnews, and each LP set comes with a free digital download of Kind of Brown, plus cover art.

"A very highly recommended, musically significant, sonically pleasing jazz release on vinyl that for a change isn't a reissue from across generations. Please show your support for new jazz productions on vinyl by picking this up. You'll be glad you did!"
- Michael Fremer, Stereophile
Musicians:

Christian McBride, bass
Eric Scott Reed, piano
Steve Wilson, saxophone
Carl Allen, drums
Warren Wolf, Jr., vibes
Track Listing:

LP 1
1. Brother Mister
2. Theme For Kareem
3. Rainbow Wheel
4. Starbeam
5. Used 'Ta Could

LP 2
1. The Shade of the Cedar Tree
2. Pursuit of Peace
3. Uncle James
4. Stick & Move
5. Where Are You?
Click here to listen to samples on YouTube.com ♫