Frank Zappa Weasels Ripped My Flesh LP 180 Gram Vinyl Bernie Grundman Mastering Pallas 2016 EU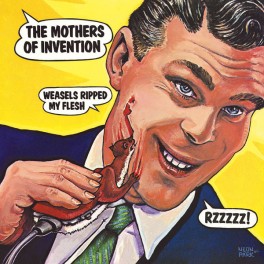 Maximize

Display all pictures
Weasels Ripped My Flesh, released in 1970, is the last release featuring the original Mothers Of Invention which Frank Zappa disbanded the year prior. Comprised of studio and live tracks, its musical diversity is showcased by incorporating elements ranging from jazz, avant-garde and experimental to R&B and Rock.
LP 180 Gram Vinyl
Cut from the Original Analog Master Tape
Mastered by Bernie Grundman Mastering
Pressed at Pallas in Germany
Frank Zappa Records Official Release #10
Shattering conventions – musical, social, political – was the life's work of Frank Zappa, the iconoclastic musical genius, rock legend and intellectual firebrand of the late twentieth century whose work is equally revered by hardcore rockers and serious musical scholars. 1970's Weasels Ripped My Flesh is Zappa and The Mothers of Invention's second posthumous release following their breakup and features live and studio material recorded by the group between 1967-1969. In typical fashion the 11-track collection includes both experimental works ("Didja Get Any Onya," "Prelude to the Afternoon of a Sexually Aroused Gas Mask," "Toads of the Short Forest") and more accessible material ("Directly From My Heart to You," "My Guitar Wants to Kill Your Mama," "Oh No"), making for a wild yet ultimately rewarding ride.

"A fascinating collection of mostly instrumental live and studio material recorded by the original Mothers of Invention, complete with horn section, from 1967-1969, Weasels Ripped My Flesh segues unpredictably between arty experimentation and traditional song structures. Highlights of the former category include the classical avant-garde elements of "Didja Get Any Onya," which blends odd rhythmic accents and time signatures with dissonance and wordless vocal noises; these pop up again in "Prelude to the Afternoon of a Sexually Aroused Gas Mask" and "Toads of the Short Forest." The latter and "The Eric Dolphy Memorial Barbecue" also show Frank Zappa's willingness to embrace the avant-garde jazz of the period. Yet, interspersed are straightforward tunes like a cover of Little Richard's "Directly From My Heart to You," with great violin from Don "Sugarcane" Harris; the stinging Zappa-sung rocker "My Guitar Wants to Kill Your Mama," and "Oh No," a familiar Broadway-esque Zappa melody (it turned up on Lumpy Gravy) fitted with lyrics and sung by Ray Collins. Thus, Weasels can make for difficult, incoherent listening, especially at first. But there is a certain logic behind the band's accomplished genre-bending and Zappa's gleefully abrupt veering between musical extremes; without pretension, Zappa blurs the normally sharp line between intellectual concept music and the visceral immediacy of rock and R&B. Zappa's anything-goes approach and the distance between his extremes are what make Weasels Ripped My Flesh ultimately invigorating; they also even make the closing title track -- a minute and a half of squalling feedback, followed by applause -- perfectly logical in the album's context." - Steve Huey, All Music
Track Listing:
Side A
1. Didja Get Any Onya?
2. Directly From My Heart To You
3. Prelude To The Afternoon Of A Sexually Aroused Gas Mask
4. Toads Of The Short Forest
5. Get A Little

Side B
6. The Eric Dolphy Memorial Barbecue
7. Dwarf Nebula Processional March & Dwarf Nebula
8. My Guitar Wants To Kill Your Mama
4. Oh No
5. The Orange County Lumber Truck
6. Weasels Ripped My Flesh
Click here to listen to samples on YouTube.com ♫