Bach 6 Suites For Violoncello Pierre Fournier 3LP 180 Gram Vinyl Numbered Limited Edition Box Set EU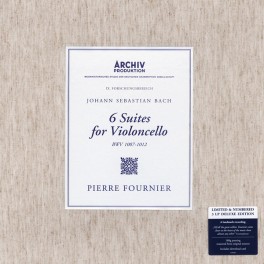 Maximize

Display all pictures
Pierre Fournier's recordings of J.S. Bach's Cello Suites have been landmark interpretations ever since their first release in 1961. In 2017 Deutsche Grammophon made these legendary recordings available again for vinyl aficionados and present them in the original Archiv Edition style, in a special limited and numbered edition of 1500 linen boxes, with booklet notes in English, German and French.
Limited Edition (1500 units)
Hand Numbered
Deluxe Linen Box Set
3LP 180 Gram Audiophile Vinyl
Pressed At Optimal Media in Germany
Mastered from the Original Master Tapes
Download Code
Cellist Pierre Fournier performs six Cello Suites by J.S. Bach for this 3LP collection. Fournier has been called the "aristocrat of cellists" for his elegant musicianship and majestic sound.

"Of all the great cellists, Fournier came closer to the heart of the music than almost any other" - Gramophone

"This recording... was classic when it came out, and remains so to this date." - Geoffrey Norris, Daily Telegraph (London)

Elegance is the quality in Pierre Fournier's playing that makes the first and, ultimately, the most lasting impression. He finds great depth in the suites, but he shows constant awareness that he is playing mostly dance music (usually, and importantly, French dance music), that joy is its most important underlying emotion and that graceful movement and rhythmic fluency are essential. - Joe McLellan
Fournier's rendition of the Cello Suites displays more aristocratic, more 'refined' playing than Casals's, but it's equally dedicated. It's also recorded with a fullness of tone which still makes the instrument sound almost alarmingly present. - Michael Tanner, BBC Music Magazine

Fournier is splendidly assured in technique and warm in tone throughout, and is excellently recorded . . . Fournier leans and breathes his way around the notes, always flexibly responsive . . . the warmth in Fournier's playing is so generous . . . [Fournier brings a kind of intensity] to virtually every note -- a glow that's almost palpable . . . [in the Third Suite, Fournier] employs expressive inflections, shifting grades of dynamic and pulse that sway as the music proceeds . . . taking in the exquisite tiny detail . . . They create a warm sense of familiarity between the listener and the music . . . that is not only what Fournier does but is also the reason it has stood the test of time. - Lionel Salter, Rob Cowan, Caroline Gill, Gramophone

Pierre Fournier allie élégance et intensité dans des Suites subtilement lyriques. - Jean-Luc Macia, Diapason
Johann Sebastian Bach (1685-1750)
6 Suites For Violoncello
Pierre Fournier
1. Suite For Cello Solo No.1 In G Major, BWV 1007
2. Suite For Cello Solo No.2 In D Minor, BWV 1008
3. Suite For Cello Solo No.3 In C Major, BWV 1009
4. Suite For Cello Solo No.4 In E Flat, BWV 1010
5. Suite For Cello Solo No.5 In C Minor, BWV 1011
6. Suite For Cello Solo No.6 In D Major, BWV 1012