Winyl Pro-Clean-6 Vinyl Records Cleaning Fluid Concentrate 60ml makes 6 Litres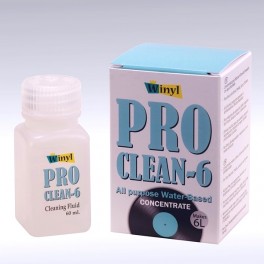 Maximize
SPECIAL ORDER: Not available to order online, please contact us for more information about available payment options and shiping cost.

Developed by chemists and record collectors, Winyl Pro-Clean-6 is produced with three Laboratory Grade non-ionic surfactants and purified water, at the exact balanced quantity for a really effective and residue-free cleaning. Pro-Clean-6 does is alcohol free and does not contain any unecessary brightener agents, solvents, colorants, fragrances or aggressive compounds.

PRO-CLEAN-6 All Purpose
Concentrate Water-Based for all Recordings
Concentrate makes 6 litres of cleaning fluid with distilled water.
For Vinyl Records, Shellac (78 rpm), Lacquer (Acetates), Styrene (45s) and Edmon Diamond Disc.
Alcohol Free, no aggressive chemicals, no brighteners.
Removes a wide range of dirt, increasing bass response and improving soundstage clarity from LP playback.
For vacuum cleaning machines (RCM like Okki Nokki, VPI, Pro-Ject or Clearaudio), Knosti type machines, manual washing & Ultrasonic cleaning.
It does not leave any residues into the groove and the stylus thanks to its high purity formula without unnecessary compounds.
Anti-static formula.
Non-Toxic, Biodegradable and environmentally friendly.
You can clean hundreds of records very cost-effective.
Fluid formula, clear, colourless and odourless. Mixed with distilled water it does not get cloudy and particles do not separate.
Our essential formula without Alcohol
Pro-Clean-6 is produced with three non-ionic surfactants Laboratory Grade. The exact and balanced quantity allows a residue-free cleaning. The fourth component is distilled water. Pro-Clean-6 does not contain any brightener agents, solvents, colorants, fragrance or aggressive compounds. Concentrate was developed and produced by chemists and record collectors
Content:
60ml Concentrate Bottle dilutes in 6 litres of water
2 Measures and 2 dispensing tips
Instructions Manual (EN/ES/FR/DE)
Winyl Pro-Clean-6 was developed in accordance to IASA recommendations, the International Association of Sound and Audiovisual Archives.