Jimmy Witherspoon Evenin' Blues LP 200g Vinyl Stereo Prestige Analogue Productions Kevin Gray QRP USA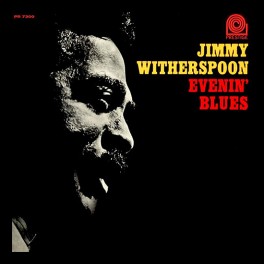 Maximize
This relaxed, rather informal August 15, 1963, session is one of Jimmy Witherspoon's rarest and was the only time that the great Arkansas shouter recorded with T-Bone Walker, the Texas-born father of electric blues guitar. In an unusual appearance as a sideman, Walker contributed his trademark brittle-toned solos, obbligato, and "from the five" intros to a set of tunes that included such standards as "Money's Gettin' Cheaper" (a 'Spoon favorite since he borrowed it from Charles Brown in the late Forties), "How Long Blues," "Good Rockin' Tonight," "Kansas City," and "Don't Let Go."
Limited Edition
Analogue Productions Prestige Stereo Series
200 Gram Audiophile Vinyl
Mastered by Kevin Gray at Cohearent Audio
Cut from Original Analog Master Tapes
Plated by Gary Salstrom
Pressed at Quality Record Pressings QRP USA
Deluxe high-gloss tip-on album cover
Flat edge profile and deep groove label true to original LP
Part of the ultimate audiophile Prestige stereo reissues from Analogue Productions — 25 of the most collectible, rarest, most audiophile-sounding Rudy Van Gelder recordings ever made. All mastered from the original analog master tapes by mastering maestro Kevin Gray. 200-gram LPs pressed at state-of-the-art plant Quality Record Pressings and plated by Gary Salstrom. Deep groove label pressings, tip-on jackets on thick cardboard stock.
This rare and relaxed 1963 Prestige date from Jimmy Witherspoon finds the Arkansas blues singer supported by T-Bone Walker on guitar, Clifford Scott on tenor sax, Bert Kendrix on organ, Clarence Jones on bass, and Wayne Robertson on drums. In addition to soulful takes on standards like Roy Brown's jump blues cut "Rockin' Tonight " and Leiber and Stoller's rhythm & blues number "Kansas City," the 10-song set also features definitive renditions of Jesse Stone's "Don't Let Go" and the haunting title track.
Adding further Texas seasoning was San Antonio saxophonist Clifford Scott, best known for his distinctive solos on "Honky Tonk" and other Bill Doggett hits, who not only played tenor (as the original credits indicate), but blew searing alto on "Grab Me a Freight" and flute on 'Spoon's reading of the haunting title track, a blues ballad previously associated with both Jimmy Rushing and Walker. With Clifford Scott, Bert Kendrix, T-Bone Walker, Clarence Jones and Wayne Robertson.

"A good, relaxed (but not laid-back) session, and one of his bluesier ones, with organ, Clifford Scott (who played on Bill Doggett's "Honky Tonk") on sax, and T-Bone Walker on guitar. Nothing too adventurous about the song selection, including well-traveled items like "Good Rockin' Tonight" and "Kansas City," but Witherspoon sings them with ingratiating soul, reaching his peaks on his cover of "Don't Let Go" (perhaps better than the hit version by Roy Hamilton) and the late-night ambience of the title track." - Richie Unterberger, All Music
Musicians:

Jimmy Witherspoon, vocals
Clifford Scott, tenor sax
Bert Kendrix, organ
T-Bone Walker, guitar
Clarence Jones, bass
Wayne Robertson, drums

Track Listing:

Side A
1. Money's Gettin' Cheaper
2. Grab Me A Freight
3. Don't Let Go!
4. I've Been Treated Wrong
5. Evenin'

Side B
1. Cane River
2. Baby, How Long
3. Good Rocking
4. Kansas City
5. Drinking Beer
Click here to listen to samples on YouTube.com ♫