Weather Report Mysterious Traveller LP 180 Gram Vinyl Speakers Corner Pallas Germany 2013 EU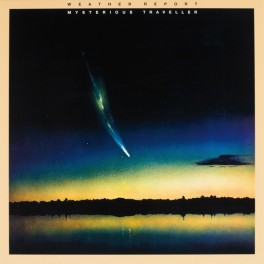 Maximize
Artist:
Weather Report
Title:
Mysterious Traveller
Catalog Number:
PC 32494
Label:
Columbia
Reissued by:
Speakers Corner
Barcode:
4260019714367
Original release year:
1974
Reissue year:
2013
Number of discs:
1
Revolutions per minute:
33⅓ rpm
Disc size:
12"
Vinyl Weight Grade:
180gr
Total Item Weight:
346gr
Pressing country:
Germany
For Market Release in:
EU
Added to catalog on:
December 13, 2016
Note:
Not eligible for any further discounts
Vinyl Gourmet Club:
Yes
In Weather Report's fourth album multi-instrumentalist Joe Zawinul travels once again through his virtually endless sound universe. And once again the question arises as to whether he will manage to leave his genetic fingerprint without resorting to routine on all the newly created sounds. The magic word here is naturalness, which makes its way safely and surely through the electronic backdrop.
100% Pure Analog Mastering
Audiophile 180 Gram Virgin Vinyl
Pressed at Pallas Germany
"Nubian Sundance", performed with two drummers and a percussionist, twists and turns in an apparently disoriented, meditative fashion through a mix of sizzling sound and colours, leading up to the final live applause that brings this dance to a close and making it a real experience for all. Following the translucent, will-o'-the-wisp-like "American Tango" is "Cucumber Slumber" with its compact funky sound created by a cool mix of saxophone and the sucking sound of a synthesizer. The two protagonists Zawinul and Shorter seem to be on a par with one another in the dazzling title piece where the lyrical saxophone part is supported by thunderous piano chords. Warm, dreamy harmonies are heard for a short while, only to be hacked apart in "Blackthorn Rose" – this is no orbital music floating around in your head but sheer tension, which makes you clutch your seat until landing. Back on earth the Mysterious Traveller was received with open arms with the readers of Down Beat magazine voting the LP 'Album of the Year 1974'.
"Weather Report's fourth recording finds Wayne Shorter (on soprano and tenor) taking a lesser role as Joe Zawinul begins to really dominate the group's sound. Most selections also include bassist Alphonso Johnson and drummer Ishmael Wilburn although the personnel shifts from track to track. "Nubian Sundance" adds several vocalists while "Blackthorn Rose" is a Shorter-Zawinul duet. Overall the music is pretty stimulating and sometimes adventurous; high-quality fusion from 1974." - All Music
"That fourth album was a breakthrough for us...Sure, we had three albums out, and the third album did sell much better than the first two, but the recording company was not all that interested. They knew they had a prestige band and had faith in us, because we won Record of the Year awards in different countries, and so on. However, at that time, they didn't know what to do with us.
"Mysterious Traveller was another kind of story. All of a sudden we were a power band. I feel that when we came up, musically we were the top band; but there were other bands that had a lot of power, like [guitarist] John McLaughlin's Mahavishnu Orchestra. There was a beautiful band. They had a lot of power but they ran out of gas because there was not that much there to sustain it. We were not in a hurry to do that, because we knew we were going to have a lot of stuff up our sleeves that we could stretch out with, and have room to do new things we hadn't done before." - Joe Zawinul
Recorded 1974 at Devonshire Sound, North Hollywood USA by Ron Malo.
Musicians:

Joe Zawinul, keyboard, guitar, percussion, vocals
Wayne Shorter, saxophone, piano
Miroslav Vitous, bass
Alphonso Johnson, bass
Ray Barretto, percussion
Dom Um Romao, percussion
Skip Hadden, drums
Ishmael Wilburn, drums

Track Listing:

Side A
1. Nubian Sundance
2. American Tango
3. Cucumber Slumber

Side B
1. Mysterious Traveller
2. Blackthorn Rose
3. Scarlet Woman
4. Jungle Book