Paul Desmond & Gerry Mulligan Two Of A Mind LP 180 Gram Vinyl RCA Speakers Corner Pallas Germany EU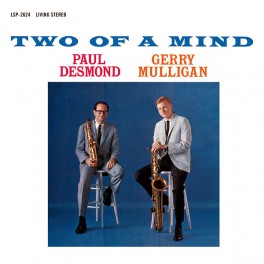 Maximize
Artist:
Paul Desmond
Title:
Two Of A Mind
Catalog Number:
LSP-2624
Label:
RCA Victor
Reissued by:
Speakers Corner
Barcode:
4260019714527
Original release year:
1962
Reissue year:
2014
Number of discs:
1
Revolutions per minute:
33⅓ rpm
Disc size:
12"
Vinyl Weight Grade:
180gr
Total Item Weight:
287gr
Pressing country:
Germany
For Market Release in:
EU
Added to catalog on:
March 16, 2016
Note:
Not eligible for any further discounts
Vinyl Gourmet Club:
Yes
Although the beautiful sound, mutual understanding and harmonic balance mostly predominate, the music of alto saxophonist Paul Desmond performing together with baritone saxophonist Gerry Mulligan is far from what one calls 'easy listening'. The improvisation is so refined that for many, it is even difficult to identify the melody of evergreens such as 'Stardust' and 'The Way You Look Tonight'.
100% Pure Analog Mastering
Audiophile 180 Gram Virgin Vinyl
Pressed at Pallas Germany
Cut by Willem Makkee
The recording in the RCA Victor Studio took place over several days in 1962, and this is why different bass players and percussionists are heard – Wendell Marshall, Joe Benjamin and John Beal each take their turn on the bass, while Connie Kay and Mel Lewis change places behind the drum set.
These musicians form a brilliant team, and that there is no piano is both deliberate and inevitable for Gerry Mulligan recordings of the day. By the way, the second saxophonist in "The Way You Look Tonight" is Paul Desmond – by means of over-dubbing in the middle of the stereo recording!
The present LP could certainly take a rightful place in a 'Best Of' collection alongside the other recordings by Gerry Mulligan with Ben Webster and Stan Getz.
"Altoist Paul Desmond and baritonist Gerry Mulligan always made for a perfect team during their infrequent collaborations. Both of the saxophonists had immediately distinctive light tones, strong wits, and the ability to improvise melodically...The interplay between Desmond and Mulligan is consistently delightful. Highly recommended." - Scott Yanow, All Music
Musicians:
Gerry Mulligan, baritone sax
Paul Desmond, alto sax
Joe Benjamin, bass
John Beal, bass
Wendell Marshall, bass
Connie Kay, drums
Mel Lewis, drums
Track Listing:
Side A
1. All The Things You Are
2. Stardust
3. Two Of A Mind
Side B
1. Blight Of the Fumble Bee
2. The Way You Look Tonight
3. Out Of Nowhere
Click here to listen to samples on AllMusic.com ♫