Hugh Masekela Hope 2LP 45rpm 200g Audiophile Vinyl Analogue Productions Kevin Gray AcousTech QRP USA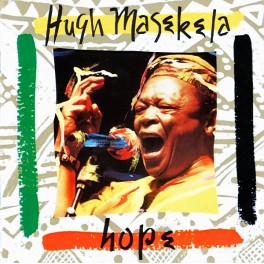 Maximize
Artist:
Hugh Masekela
Title:
Hope
Catalog Number:
APJ 82020
Label:
Triloka
Reissued by:
Analogue Productions
Barcode:
753088820212
Original release year:
1994
Reissue year:
2008
Number of discs:
2
Revolutions per minute:
45 rpm
Disc size:
12"
Vinyl Weight Grade:
200gr
Limited Edition:
Yes
Total Item Weight:
575gr
Pressing country:
USA
For Market Release in:
USA
Added to catalog on:
April 28, 2014
Vinyl Gourmet Audiophile TOP 100:
Yes
Note:
Not eligible for any further discounts
Vinyl Gourmet Club:
Yes
Dramatic live musical performance and one of the most dynamic recordings ever made will take you and your audio system to the limit. Long time established audiophile demo track Stimela (The Coal Train) is pure emotional energy and dynamic punch rarely captured on tape. Mastered at 45rpm from Original Master Tapes by Kevin Gray at AcousTech and now pressed at QRP on 200gr virgin vinyl.
Featured in Vinyl Gourmet Audiophile TOP 100
Limited Edition
Double LP 45rpm on 200 Gram Vinyl
Pressed at QRP USA
Cut by Kevin Gray at AcousTech
Mastered from the Original Analog Master Tapes
"Hope is one of those intensely visceral, large as life, and immediately present recordings that will make pretty much any system sound at least very good, and will cause better ones to raise goose bumps. Horns are brilliant, rich and brassy-bright; drums have the kind of punch-to-the-gut power they have up-close, the soundstage is huge." – Wayne Garcia, The Absolute Sound

"A stunning demo disc to test or show off any stereo system." – Playback

"Here's another masterpiece from Chad Kassem and Kevin Gray… you would swear that you are listening to a master tape in your living room… this one is great for showing off what your stereo system can do." – Jeff Dorgay, Tone Audio

"Believe me, this double 45 makes the CD sound like digital dog crap. It you thought the CD version sounded good, you ain't heard nuttin' yet." - Michael Fremer, Analog Planet

A longtime audiophile demonstration disc. Hope will show off your system's dynamic range as well as any record ever released. Hugh Masekela, the outstanding South African trumpeter, assembled a seven-piece group and recorded this great set live at Washington, D.C.'s Blues Alley. The songs stretch over a period of nearly five decades and serve as an informal guided tour of Masekela's life. The songs are honest and bare, and as for the sound – WOW!
Hugh Masekela is a world-renowned South African flugelhornist, trumpeter, bandleader, composer, singer and defiant political voice. Masekela began to hone his, now signature, Afro-Jazz sound in the late 1950s during a period of intense creative collaboration, most notably performing in the 1959 musical King Kong, written by Todd Matshikiza, and, soon thereafter, as a member of the now legendary South African group, the Jazz Epistles (featuring the classic line up of Kippie Moeketsi, Abdullah Ibrahim and Jonas Gwangwa).

In 1960, at the age of 21 he left South Africa to begin what would be 30 years in exile from the land of his birth. On arrival in New York he enrolled at the Manhattan School of Music. This coincided with a golden era of jazz music and the young Masekela immersed himself in the New York jazz scene where nightly he watched greats like Miles Davis, John Coltrane, Thelonious Monk, Charlie Mingus and Max Roach. Under the tutelage of Dizzy Gillespie and Louis Armstrong, Hugh was encouraged to develop his own unique style, feeding off African rather than American influences.

In the late 1960s Hugh moved to Los Angeles in the heat of the 'Summer of Love', where he was befriended by hippie icons like David Crosby, Peter Fonda and Dennis Hopper. In 1967 Hugh performed at the Monterey Pop Festival alongside Janis Joplin, Otis Redding, Ravi Shankar, The Who and Jimi Hendrix. In 1968, his instrumental single "Grazin' in the Grass" went to Number One on the American pop charts and was a worldwide smash, elevating Hugh onto the international stage.

His subsequent solo career has spanned 5 decades, during which time he has released over 40 albums (featured on countless more) and has worked with such diverse artists as Harry Belafonte, Dizzy Gillespie, The Byrds, Fela Kuti, Marvin Gaye, Herb Alpert, Paul Simon, Stevie Wonder and the late Miriam Makeba. In 1990 Hugh returned home, following the unbanning of the ANC and the release of Nelson Mandela – an event anticipated in Hugh's anti-apartheid anthem "Bring Home Nelson Mandela" (1986) which had been a rallying cry around the world.

Track Listing:

1. Abangoma (The Healers)
2. Languta
3. Grazin' In The Grass
4. Nomali
5. Marketplace
6. Ntyilo Ntyilo (The Love Bird)
7. Stimela (The Coal Train)
Click here to listen to samples on YouTube.com ♫